Skip to Content
The Nightlife of Snowcat Operation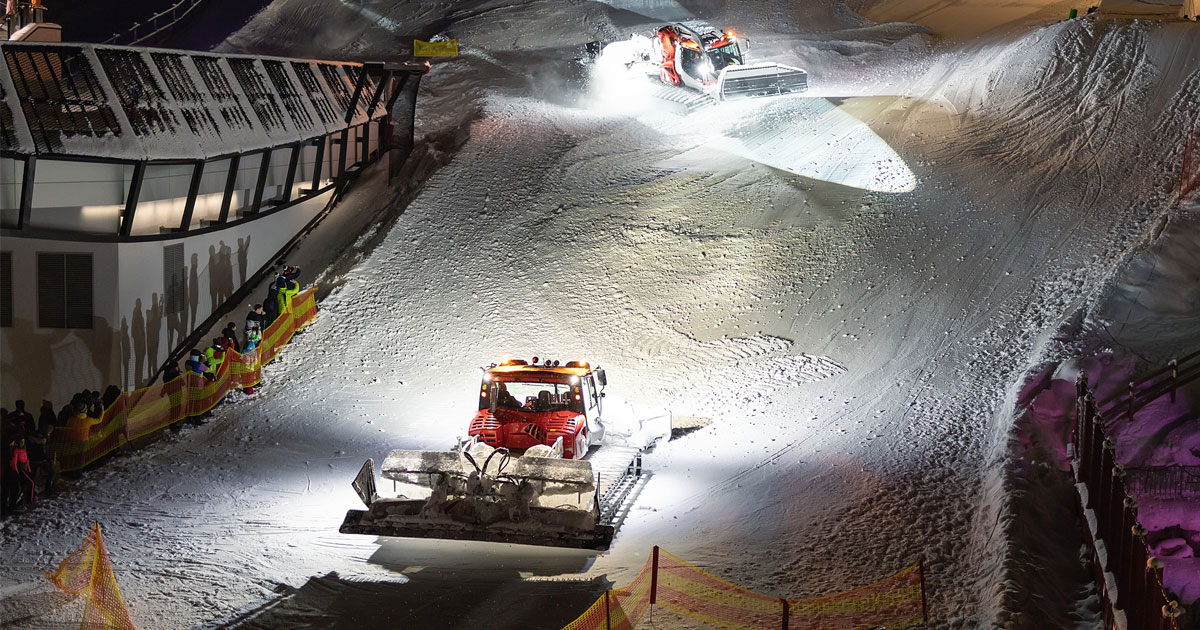 Whether you head out to the slopes every weekend with family or friends, get out multiple times a week, or simply take an annual ski trip, your focus is likely on the fresh expanse of snow in front of you. No matter how you enjoy the slopes, you're probably not thinking about how that beautiful powder ends up so perfect every time you're there. In part, that could be because you don't see much of what it takes to create it during the day. At night, however, your favorite mountain looks extremely different.
It's then that dedicated snowcat drivers handle the rarely recognized art of creating perfect corduroy for snowboarders and skiers alike. In order to maintain the slopes and keep that prosperous resort up and running for you, you need the faithful groomers of the night shift. To best appreciate them and the work they do, let's take a look behind the scenes—imagine you're a snowcat operator coming on shift to get the slopes ready for another day.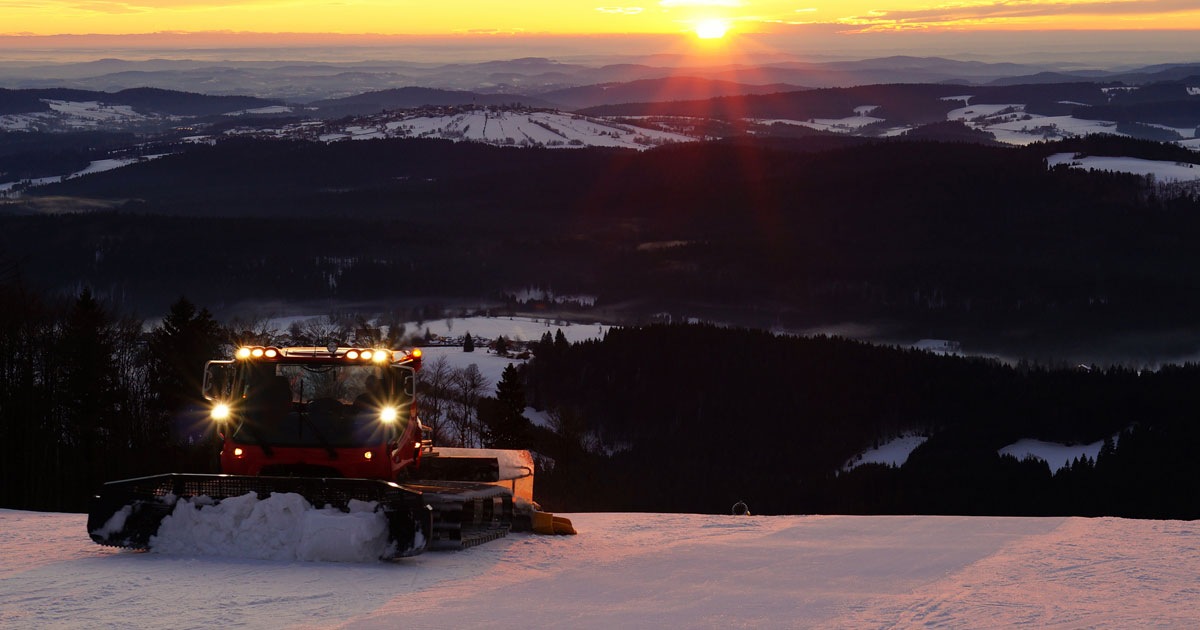 4 PM: Shift Start
Your designated area closes around 4 PM, and while there are probably one or two snow warriors heading down the slope for a last-minute run, that gives you a little extra time to get your night going. That's why you get in before the hill closes—you want to beat the rush of traffic that seems to appear whether people start heading home or enjoy some extra time in the lodge. Either way, you've got a few minutes for a cup of coffee and then a job to do.
Your first concern—making sure your equipment is running properly. Maintenance is key to performing your job well. You've been doing this for a few years, but that was the first thing you learned: make sure your cat is running well.
Before you can do that, however, you need to get your grooming plan for the night in line, and your supervisor is the key to that information during the night-shift meeting. They outline your important tasks for the evening, and you have just a little time to ask them a few questions before they head out for the night.
4:30 PM: Equipment Check
Before you start moving snow, you need to take a look at your machine and ensure everything is in proper working order. You start by looking it over, examining the engine, blade, tiller, tires and tracks, winch, and various oil and fuel levels. While you're doing this, you make a note of why each of these parts of your machine is so important.
Blade
This might be the most prominent part of your machine. It's a curved tool at the front of your machine that chops up the snow. It also works to fill and roll the snow.
Tiller
While the blade is at the front of your snowcat, the tiller is located in the back. One of the most important components of the tiller is the cutter bar, a barbed pipe that spins and tears up the snow. The tiller works in conjunction with the blade. The blade fills holes and repairs ruts, and the tiller (with the help of the cutter bar) churns up the snow so the comb can create that beautiful corduroy everyone loves.
Tracks
The goal of the tracks is to help in breaking up the snow. They work independently from each other, and because they are fitted over rubber wheels, they're best equipped to navigate snow. They also help keep the snowcat floating on the surface of the snow, even though the machine is quite heavy. When there's not a lot of snow early in the season, the tracks help to make a good snow base.
Winch
Steep slopes can be dangerous for one main reason: they can be difficult to travel and navigate. A winch helps secure the snowcat on terrains that are steep and dangerous by anchoring the snowcat with a steel cable. When a snowcat has a winch, that means the slope doesn't need to be groomed top down, and that gives groomers more flexibility.
After you look over the parts of your machine, it's time for a full check. Maintenance is one of the most important parts of your job because without a properly running machine, you not only put yourself at risk, but you put the safety of the slope at risk too. You want to thoroughly check each of the previously mentioned important parts and make sure that they appear to be in good working order. Then, you address any issues before it's time to begin grooming, so you won't find yourself stranded on the mountain.
Depending on your skill level and time in service, you'll likely use the rest of this time to perform other snowcat training. These may include assisting with the grooming plan and moving patrollers to various parts of the mountain so that they can make sure the mountain is safe, especially where potential avalanches are concerned.
5 PM: All Clear
By 5:00, you've performed all your maintenance checks, addressed any issues, and finished your pre-shift duties. Now, what you're really waiting for is the all-clear—the signal patrollers use to tell snowcat operators the mountain has been cleared of snowboarders and skiers. That's when you know that the slopes are ready for you to begin work.
Your snowcat has been running long enough that it is nice and warm, which means it's ready for you to disengage the brake and head out. You've put in a few years at the mountain now, and you know that the fresh snowfall from the day is good enough that you don't have to worry about winching your snowcat tonight. It's not a slick night, so you're good to roll. You've done this enough times now that you can catch any of the mulligans you carve before you move on to the next part of your night.
There are a few different runs at your resort, and you know the different trails have different grooming requirements—so you plan your route based on your knowledge of the mountain. In fact, each individual trail, like the individual people who ski or snowboard it, has its own personality and unique nature. That means each trail requires a particular treatment so that you can lay down the best pattern for the run.
There's a race trail that needs hard-packed snow, so you take care of that area first, which means it has the largest chunk of overnight time to set up for the next day when the slopes reopen. You're not working alone, luckily, you've got a few other people working the slopes with you, but you all know how important it is to tackle the race trail first.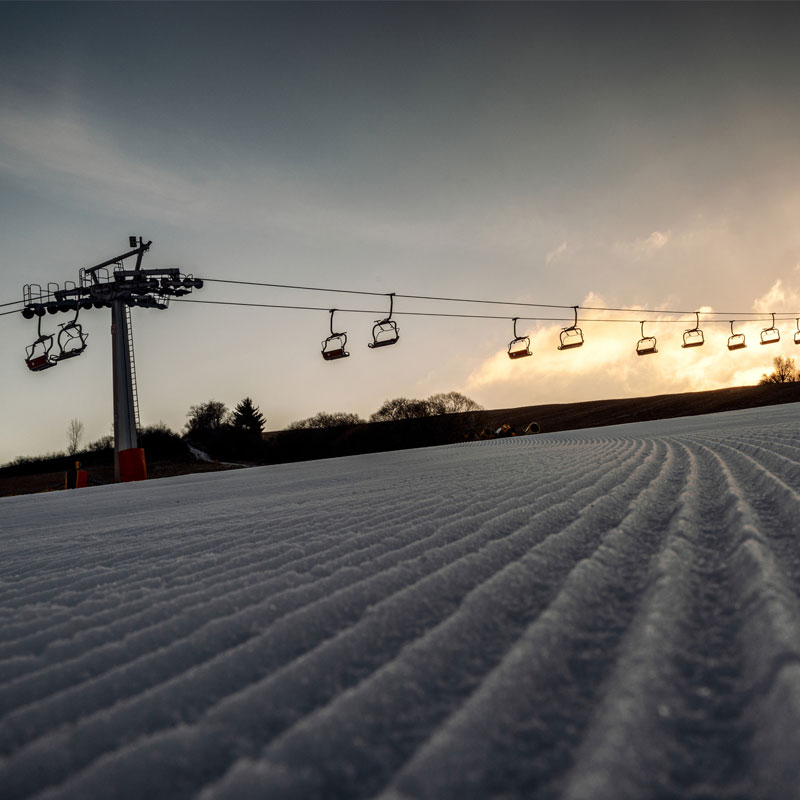 During the day, a lot of snow has been pushed to the outside of the run, and even more has been pushed down the hill. This is very typical for the runs you take care of on a shift. Occasionally you'll need to move snow from one area to another, so you take the time to dump some extra snow in the places you know need the most extra coverage. When each and every thin spot is covered, you move on to the next trail. Most of all, you keep checking to make sure you're leaving behind the most beautiful corduroy pattern you possibly can.
You think back on the snowfall the crew reported—there was some snow during the day, but it wasn't too heavy. Sometimes, even if it's not slick enough to use a winch, you get to test out some fancy tricks you've picked up here and there to keep moving without losing too much traction. Luckily, you don't have to worry about that tonight, and you've got a pretty clean run of the trails so far.
8:45 PM: Lunch Break
It's definitely not the typical lunch break time, but you've gotten used to eating at odd hours. Just like everyone you work with, you have your favorite lunch spot. Whether it's a far-off lodge that you leave unlocked just for the purpose, the main lodge, or a quieter space, you make your time your own. You're not likely to take any more breaks for the night, so this lunch break will be an extended one. Plus, as warm as your snowcat can be, it's nice to be away from the elements.
If anyone has the same favorite lunch spot as you, you'll spend time not only catching up but also sharing stories or information about the different trails you've covered so far. You might talk about the other hills you've skied or snowboarded, strategize about the rest of the trails you have to groom, or even razz each other about your fantasy football picks.
After some time relaxing and letting off some steam, you all disperse and hop back in your machines, ready to head back out.
9:30: Back to the Grind
You feel ready to roll after lunch, so you continue to focus on the most important duty—creating an idyllic surface for the next day's group of skiers. You continue to move snow around, even it out, and fill in any thin spots. You keep your trails even and that corduroy pattern smooth for the next day.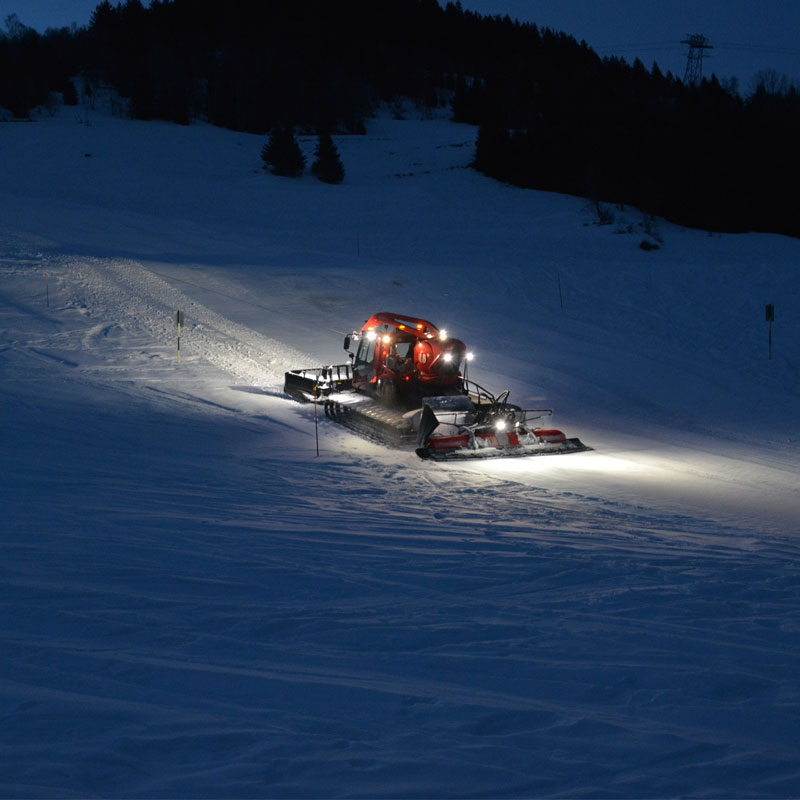 If it's the beginning of the season, you're focused on preparing for opening day. You might spend an incredible amount of time moving snow around to keep all the trails even. Building up a base for the rest of the season is vital and can only be done in the early pre-season days and nights. This base layer sets up the foundation for the runs all season long.
When there are storm cycles present, you and the other operators help manage any disasters. While snowcats are meant for grooming the trails, they can also provide the horsepower needed to get the patrollers where they need to be to make sure the hill is safe for others to use. Your compatriots on the rescue teams often use snowcats as well.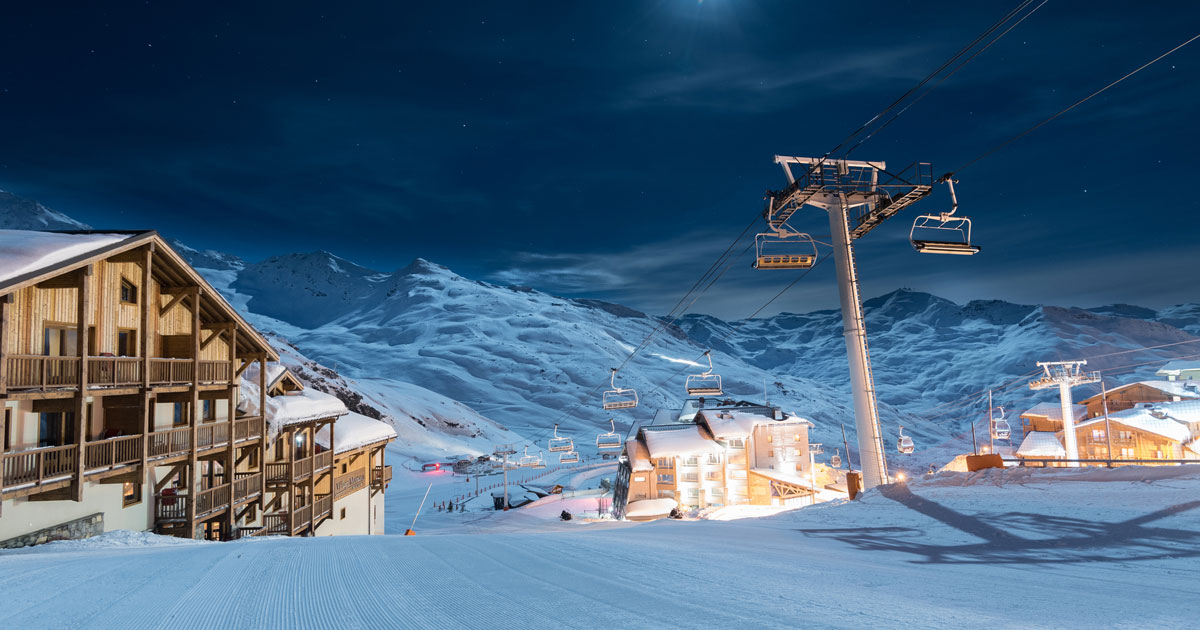 11:30 PM: Back to the Shop
It's the end of the night, and you've been running your machine hard. Both you and your snowcat are ready for a refuel and a little bit of rest before another long shift. Given the time of night, however, when you need to fuel up, everyone else has the same idea. Fortunately, tonight, you're at the head of the line, so you don't have to wait too long.
While your Thiokol or other kind of machine is fueling, you start clearing off ice and snow from the blade frame, the blade, and the tiller too. You take a little time to wipe down the cabin of your machine. Keeping it looking new is a point of pride and something you do for yourself as well as everyone else on your team that might need to use it.
Once that satisfying click signals that you're done fueling up, you drive your machine over to its spot, park it, and power it off for the night. You spend the last several minutes of your shift filling out any work orders or paperwork you might need to take care of before clocking out for the night.
Midnight: Another Night in the Books
Once the clock reaches midnight, you clock out and reflect back on another successful night. Although your work is accomplished behind the scenes and isn't often recognized by the crowds of skiers and snowboarders set to arrive at the lodge in the next several hours, keeping them safe and ensuring they'll have fun means a lot to you. You're confident that you and the rest of the crew have done your best work, creating ideal slopes in time for opening the next day. You love the snow, and you know your fellow operators do too.
The Nighlife of a Snowcat and Operators
Operating quality machines can boost the confidence of any snowcat operator, and PistenBully snowcats have been the industry standard for decades. Learn more about PistenBully snowcats and how they contribute to your experience.