Skip to Content
Leasing a Snowcat From Ski Cat Company
If you are in the market for a snowcat, consider leasing as a low-cost alternative to purchasing a new or used one. Leasing offers a form of exclusive use for your purpose and a set period – but lacks the upfront purchase cost and the cost of repairs, and maintenance. At Ski Cat Company, we proudly offer PistenBully, snowcat, seasonal leases.
Reasons to Consider Leasing a Snowcat
As a business owner, you're also a valuable consumer, and you know how important it is to make informed, practical, and financially feasible purchasing decisions for your business. You're also tasked with ensuring your commercial property remains safe and accessible throughout the year.
Of course, the winter months pose challenges regarding client and employee safety, property maintenance, and the associated costs. That means that you need to be prepared for snow removal and snow maintenance well before a snowstorm sets in.
So, how do you determine the best snow maintenance options for your business? You'll have to consider any regulations or requirements for the machine operator, who will be responsible for the commercial snow equipment you use. You'll also have to determine the best type of equipment to use, whether you should purchase or lease, how much you should spend, where to store the equipment when it's not in use, and how to maintain it.
How to Plan Your Snow Maintenance Budget
At Ski Cat Company, we've been in the business of selling and leasing snowcats for over 25 years. If any of the above questions are plaguing you as winter continues, we are here to help you make the best choice for your snow removal needs. However, it is important to note that while business owners and private individuals alike are responsible for maintaining their property and ensuring the safety of everyone on the premises, purchasing a snowcat may not be the most feasible option.
In many climates, snow equipment is only in use a few months out of the year. As a result, it may be a financial disadvantage to purchase your own snowcat. When you own commercial snow equipment, you are responsible for not only the full cost of the equipment but also the cost of maintenance and storage during the off months.
If you're looking to wisely budget for snow maintenance, you may be relieved to know there are other options for obtaining a snowcat. In fact, leasing a snowcat may make a great deal of financial sense.
When you lease, you save the cost of storage and maintenance, and you spend far less money upfront. In many cases, leasing commercial snow equipment is even tax-deductible as a business expense. However, every client is unique, and it's important to consider your options and make the decision that makes the most sense for you.
Quality Commercial Snow Equipment
From snowplows to salt spreaders, it's important to have equipment for snow removal and winter maintenance available when you need it most. There's nothing worse than having your home or business inaccessible due to a lack of quality equipment. At Ski Cat Company, we pride ourselves on quality. While we are in the business of selling and leasing snowcats, we work hard to ensure each machine is reliable and meets the standard of quality you have come to trust from some of the best names in snowcats.
We are partnered directly with the PistenBully manufacturing company, which allows us to provide service and maintenance that ensures manufacturer standards across the board. When you work with us, you are working with experts who take pride in worry-free, reliable commercial snow equipment. Whether you need equipment on a seasonal basis or live and work in an area that requires snow maintenance year-round, we make sure your equipment is there when you need it.
Why Choose a Snowcat?
For decades, snowcats have been the go-to machinery for maintaining outdoor spaces, both for snow removal and for winter activities such as cross-country skiing and snowmobiling. Snowcats can also transport people and goods anywhere you need, including cross-country, up and down mountains, and through trails blanketed in snow. With a snowcat, you can groom snow or remove it all from the comfort of a heated, enclosed cab.
Need to plow the parking lot after a snowstorm? We suggest a snowcat. Need to maintain your cross-country ski trails? Again—your best option is a snowcat. Need to transport items through uneven terrain or across miles of open space? A snowcat can perform these tasks and more.
Combined tracks are ideal for a variety of landscapes, from slopes to flat surfaces. Steel tracks will carry you safely across rock and ice. The X-Track , with its rubber grousers, is best suited for forests, meadows, and swamplands. This track can also be used in the summer and is remarkably quiet on pavement.
Perks of Leasing a Snowcat
The cost of owning commercial snow equipment like a snowcat? $20,000 to $80,000. While commercial snow removal and grooming is a necessity for many individuals and businesses, not everyone has that kind of cash on hand.
Fortunately, leasing can afford you the option to secure the equipment you need without breaking the bank. Much like leasing a personal vehicle, leasing a snowcat requires less cost upfront. Since you don't own the snowcat, you also save the cost of maintenance and storage when the equipment is not in use.
While some equipment can be used in the warmer months, snowcats are, of course, most used during the snowy months. When Jack Frost leaves town, you may prefer to say "see you next year" to your snowcat, too.
With a seasonal leasing plan, prepare your snowcat for the winter, so you don't have to worry about the fluids and filters needed to keep it running efficiently through the season. If it's part of snowcat maintenance, you can rest assured we've taken care of it.
From the time the first snow falls to the last storm of the spring, the snowcat will be there for you while we take care of its maintenance. When the snowy season is over, you will return the equipment without a single worry about storage. Better yet, if you are a business owner and in need of commercial snow equipment for your business, your lease payments are usually tax-deductible.
Should I Buy or Lease a Snowcat?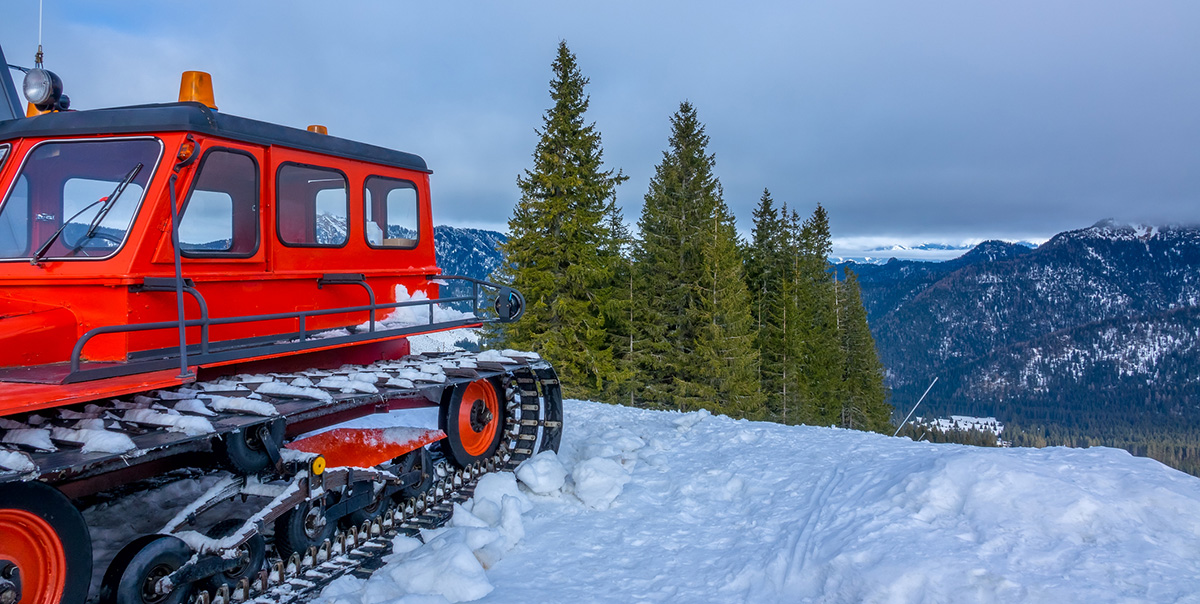 As opposed to leasing, buying a snowcat means it's yours, for better or for worse. While owning a snowcat gives you an opportunity to build equity that leasing can't provide, much like a car, snowcats depreciate once they're in use.
Leasing gives you the freedom to access the snowcat for the agreed-upon set of time and return it to us when the agreement is over. In addition, you'll experience the freedom that comes with knowing if a part needs replacing due to normal wear and tear. As the lessee, you only assume responsibility for damage caused by negligence, accident, or willful neglect.
Learn more here: Buying or Leasing a Snowcat: What Is the Best Option?
If you are in the market for commercial snow equipment, leasing a snowcat is one of the best options available today. Fortunately, Ski Cat Company is here to help.
Contact our team about leasing a snowcat.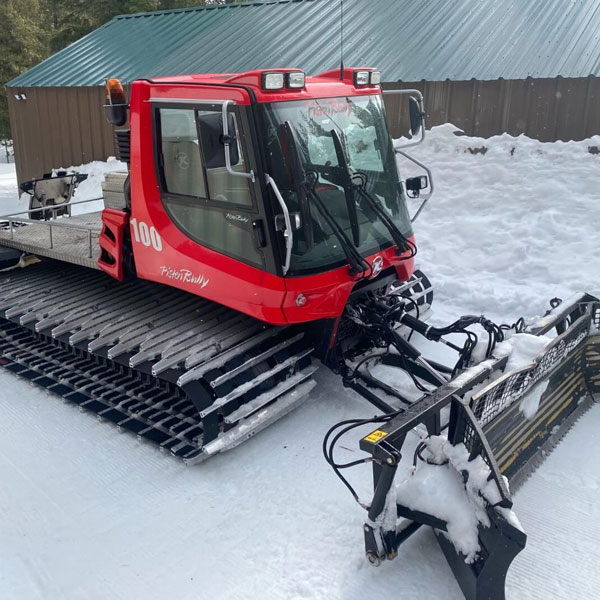 How Does Your Leasing Service Work?
We have designed our bare leases to be customer-friendly alternatives to the cost of owning a snowcat outright. The way it works is simple. First, we provide you with a rate for a set period of use. During that period, you have exclusive rights to the vehicle. Once your lease period ends, you return the snowcat to us. We make sure you understand the terms of the agreement, so there are no miscommunications and misconceptions down the line.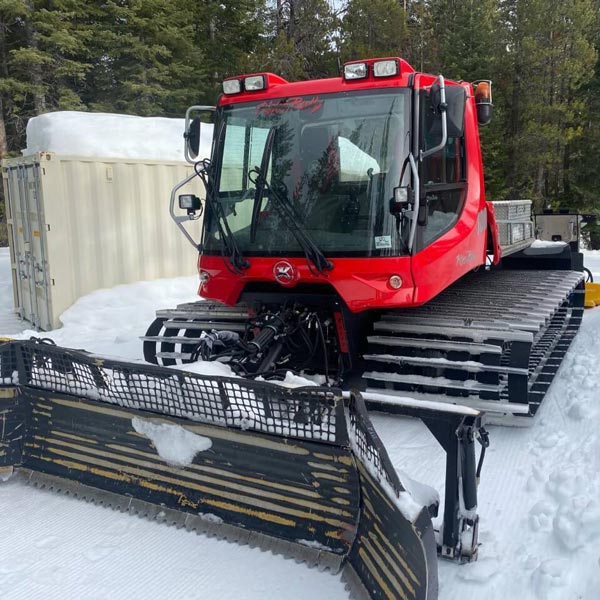 What Are the Benefits of Leasing Vs. Buying?
Leasing is a highly cost-competitive alternative to owning, especially for the seasonal nature of snowcat vehicles. Leasing vs buying is primarily a financial decision. A Lease provides you the same access and choice of configuration without the upfront capital purchase or financing and it shifts the burden of scheduled maintenance and component service life to the Lessor and not the Lessee, saving the Lessee the potential of high cost of maintenance. With a Ski Cat Lease, you get modern snowcat technology from a thriving snowcat manufacturer. With a purchase of a used snowcat, you are either likely getting outdated technology from a defunct manufacturer, getting a second-rate brand of lesser quality and craftsmanship, or paying far more than what a Snowcat Seasonal lease will cost you. With a Lease, you don't have to store a snowcat over the months when not in use and you can get the latest in technology and attachments each season.
IF YOU USE THE SNOWCAT FOR YOUR BUSINESS, LEASE PAYMENTS ARE 100% DEDUCTIBLE EXPENSES WHEREAS BUYING HAS A SCHEDULED DEPRECIATION EXPENSE OVER A MUCH LONGER PERIOD OF TIME
We Carefully Maintain Every Snowcat We Lease
Ski Cat Company takes pride in the machinery we own and lease. Reliability is everything to the Lessee and Ski Cat takes this seriously. To maintain the manufacturer standards, Ski Cat Company uses PistenBully directly to service all the equipment and make sure it meets the quality and safety of the manufacturer. Ski Cat Company uses OEM parts and uses recommended fluids and filters. When a machine is delivered for a Seasonal lease, the machine is ready for service all season long without the lessee needing to provide a fluids and filters service.
Leasing FAQs
Leasing is an incredibly common practice in the world today among all industries. Very common areas where Leases are the predominant way of having access to something without the upfront capital expense to own it or the ongoing cost of maintaining the item.
Real Estate
Heavy & Light Equipment
Software
Restaurant Equipment
Cars
Office Furniture
No Upfront Cost of Purchase — Put that money where it can make you money rather than owning a depreciating asset! What rate of growth do you expect your money to grow at each year? 8%, 10%, 20%? Does it benefit you to put your money into something where it grows or where it declines over time?

When you own something, it usually depreciates in value. If you buy a snowcat, it is likely worth less than the year before, and to keep it in service, you have to spend money to maintain it. So, your upfront purchase becomes worth less each year.
Maintenance and Service Life Is Not the Expense of the Lessee — Snowcats of any brand, model or age are not cheap to service and maintain. Get the top technology and different configurations or attachments for a low cost.
No Lending or Debt Issues — Can you get credit for a snowcat purchase?
Cash Flow – Does your business only make money during the winter? If you own a machine, you have the cost year-round. With a lease, you don't have the expense when the equipment is off rent.

Give it back for the summer or when the need goes away – no need to have storage for something that isn't there! Would you be a capable seller when it comes time to get rid of the machine?
A person or company should own the equipment if they are a high-volume user – for snowcats, do you put over 800 hours per season on the machine? Or when you have so many machines that your cost to have your own mechanic fleet is less expensive than having it serviced by outside help. A person or business should own a piece of equipment if they plan to use it in an abusive or uncaring way that rapidly deteriorates the machine and lastly, if you are satisfied with older technology or don't care if the manufacturer is still able to provide service and parts for the machine, then ownership is a less costly means of having access to the equipment. Do you like a vintage car or a modern car?
Insurance costs are the same
Safety
On-demand access
The cost of damage
With a bare rental, the question often comes up as to who is responsible for what. First and foremost, the Lessor (owner of the equipment) is responsible for the overall service lifespan of the equipment. That means that the components that make up the machine assembly all have a lifespan that the Lessee isn't responsible for during the lease period. Such examples are the Motor. A well-maintained diesel motor should have a lifespan of 15,000 hours or more, but at times, properly maintained equipment does fail earlier than its expected service life, and that is not the burden of the Lessee. The Lessor is responsible for the machine and its components for the maintained and expected life span of those components, including labor and parts to repair and replace them at the end of their undamaged life span. The Lessor, however, has no control over the Lessee location and conditions of use and when the machine is used; therefore, the Lessee is responsible for the costs of travel, lodging, and support equipment to service the machine at the Lessee's location or transport to an approved service center. If a machine requires service, it is best for the machine to be brought to an approved shop for the service.
Normal wear and tear is the expected and approved consumption of a portion of the reasonably expected life span of a component when the component is used competently and with proper care.
On a Snowcat, an example would be the tracks. A set of tracks can be expected to last 4000 hours or more and around the time of this hour marker, the condition of the tracks is likely to have deteriorated to a point of unreliable service. This deterioration might be worn down grousers or rubber belting that is cracking and separating. Now the service life of a component may be extended through meticulous care or light use, or it may be shorter due to heavy use and mediocre care, and we can't precisely determine what the service life is of hardware. But the bottom line is that tracks are just like tires on a car; over time and with each mile they wear out. The Lessor is responsible for normal and expected wear and tear of these tracks for the expected and approved use by the Lessee.
Damage is the premature deterioration of a component or system caused by negligence, misuse, accident, or willful neglect that abruptly shortens or terminates the service life of that component and is the responsibility of the Lessee. Examples of damage are a motor that was run out of oil and continued to operate; using the equipment in terrain that excessively reduces the lifespan of the tracks; allowing contaminants to enter the hydraulic or fuel system; or glass damage caused by falling debris. With a snowcat, common occurrences of damage are running the snowplow into an immoveable object or driving the tracks on a surface that damages the grousers. Occasionally, just like a car, operators collide with an object resulting in a body repair to restore the damage to its original condition. The worst scenario is also just like a car when the operator doesn't take the time to check the oil levels and operates the machine subjecting it to a lack of lubrication, causing failure, or operating the machine when a warning light is on telling the operator that some element of the machine needs service. These types of damage are the responsibility of the Lessee.
While a machine is in the care of the Lessee, the Lessee is expected to treat the machine with care and according to the manufacturer's specifications. The Lessee is also responsible for maintaining fluid levels, track tension, battery charge and condition, lubricating, stopping operation when something is not correct and servicing the items that are exposed to the conditions of the Lease. Examples of things that are the responsibility of the Lessee are tires, battery, lubricating points, and hydraulic lines. These examples are common issues that are subject to the Lessee and its use. Harsh turning on certain terrain or improperly tensioned tracks can cause the tires to rupture or runoff or out of the wheel guides of the tracks; Hydraulic hoses can rupture due to weather conditions, improper connection, unrepaired leaks, and allowing contaminants to enter the system; and batteries can die due to temperature, frequency of starting and electrical demand.
Hydraulic leaks must be addressed by the Lessee and the Lessor to prevent greater deterioration. With a Ski Cat snowcat, the Lessor takes many proactive and preventative measures to mitigate these issues, such as using OEM hoses and inspecting them for leaks, cracking, and deterioration before use; using solid and foam-filled tires to minimize failure; and having battery's tested and within specification for use; but the Lessee and its use are responsible for these items.
Depending on the Lessee's policy, insurance will likely cover damage caused by the Lessee, but there may be a deductible that has to be covered first. Insurance may also cover the cost of recovering the machine if the machine requires assistance to be towed to an area enabling it to be serviced.
Check with your insurance provider.
Ski Cat Company, the equipment Lessor, is responsible for the repair or replacement of undamaged component service life. As the Lessor, Ski Cat Company strives to provide equipment that begins a lease period within the manufacturer's specification for service intervals and life span use. Any undamaged component that fails or requires repair during the Lease period is the responsibility of Ski Cat Company to repair or replace, including and limited to parts and labor. It is the responsibility of the Lessee for the location of service and all costs associated with field servicing. These costs may include but are not limited to travel time, lodging, support equipment, clean up or temporary facilities.
During a Lease period, it is the responsibility of the Lessee to maintain the equipment according to the manufacturer's specification and consistent with reasonable care and practice for the respective equipment. This includes equipment documented inspections and checks; fluid replacement or adding; replacement of consumed items such wipers or fire extinguisher charge; hydraulic hose leaks and ruptures; tire repair and replacement; proper track tensioning; specified lubrication; proper start-up procedures; deicing; and machine cleanliness, both interior and exterior. It is the responsibility of the Lessee to immediately notify the Lessor of any warning light, safety concern, hydraulic system or motor leak, failed bearing, or audible sounds not expected. Failure to stop operation of the equipment may lead to damage which is the responsibility of the Lessee. Use of the equipment without regard to ice buildup, dirt in the tracks, or other detrimental considerations may result in damage at the expense of the Lessee.
In the event of any damage, regardless of cause, the Lessee is required to promptly notify the Ski Cat Company Lessor. Ski Cat Company will collaborate with the Lessee to quickly and appropriately return the equipment to service. The order of priorities in assessing a return to service are safety; operation per the manufacturer specifications; further damage prevention; loss of use impact to the Lessee; logistics, and cost of repair. Some damage may be tolerable for the continued use of the machine through the lease period and most cost-effectively handled upon return to the Lessor.
Contact Us Today for More Information