Skip to Content
The Many Uses of the PistenBully 100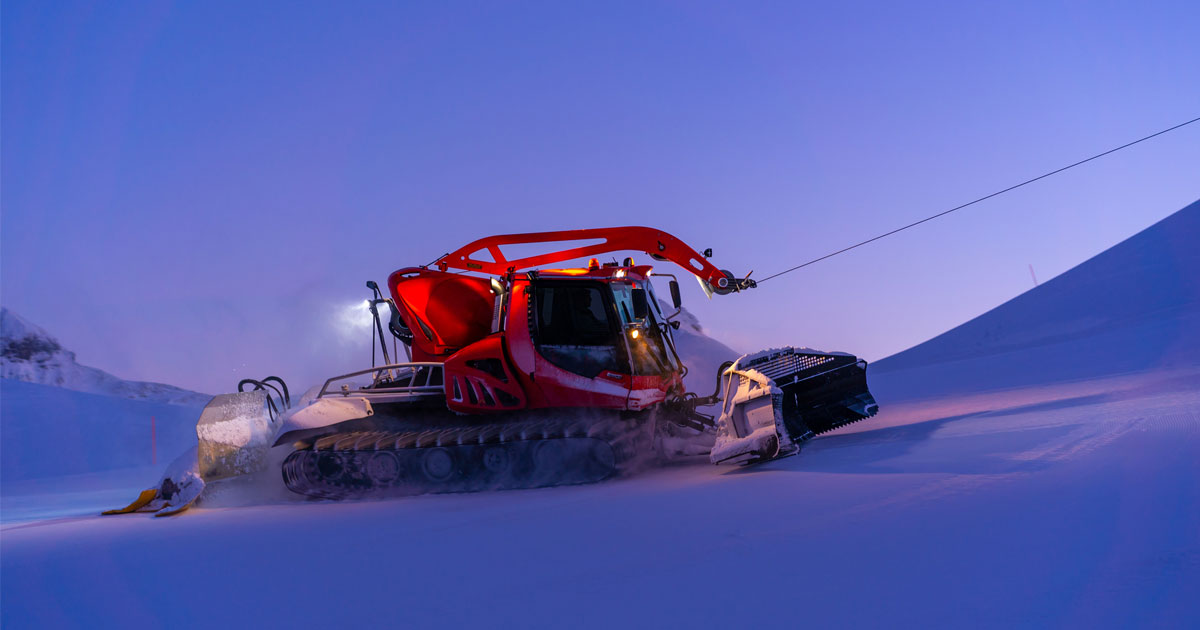 Snowcats are ideal for movement through snow and over icy landscapes. The PistenBully 100 is one of the highest-performing snowcats with the most powerful engine in its class, thanks to the constant innovation by its manufacturers to improve existing snowcat designs. The PistenBully 100 has evolved through many designs throughout its history to provide a reliable option for movement and transport over rough, snowy terrain. Whether you need to move heavy loads across the terrain, shape snow for a snow park or ski resort, or explore the wild unknown, this snowcat may be the answer for you.
What Does a PistenBully Do?
The primary function of the PistenBully 100 is to shape large volumes of snow quickly. The vehicle can also move capably along slopes and uneven terrain. The PistenBully 100 was made for heavy outdoor use and is ideal for landscape grooming and traveling long distances over ice and snow. This snowcat is equipped with an all-way blade that's perfect for snow plowing and precision landscape shaping, as well as a rear-mounted tiller and groomer that leaves the ideal corduroy pattern for skiing and snowboarding. Manufactured with controls for intuitive control and using eco-friendly technology, this snowcat is ideal for any winter trek or grooming capability you desire.
Uses of the PistenBully 100
The PistenBully 100 is economical, powerful, and flexible for your commercial needs, including landscape shaping, mining, disaster management, construction, and off-roading. In fact, this vehicle has proven itself in a number of use cases across many industries. Here are our favorites.
Snow Groomer
The PistenBully was manufactured primarily for snow grooming and plowing. Snowcats are made to traverse snowy inclines, and this unit is equipped with snow plow and trail grooming attachments to clear a path for skiers, snowboarders, hikers, and other outdoor enthusiasts.
The PistenBully is made for both large-scale snow grooming and smaller-scale plowing and shaping. The newest version of the all-way blade has taller snow guards and a wider profile to speed up the snow removal or grooming process. The PistenBully 100 also features an optional snow blower attachment, which can make snow removal even faster. The quick-change system makes this an ideal machine in snow parks, making it easier to use the back-blading feature alongside the all-way blade. This allows for better movement and smoother snow grooming capabilities.
The PistenBully 100 can be operated by a joystick or semi-steering wheel, providing flexibility alongside intuitive four-way control of the tiller and blade. It's been used for years as a reliable vehicle for low-angle or smaller slopes, high-angle major ski resorts, cross-country tracks or fields, and even for indoor use. In fact, this is an ideal unit for indoor use, thanks to its quiet and low-emission engine that uses a diesel particle filter. The PistenBully's maneuverability and sensitivity while on snow help it navigate smoothly in small spaces or indoor areas while also serving as a reliable grooming option for open areas and large resorts.
Ski Lift
For many resorts and ski areas, a ski lift isn't an economical option for getting skiers up a ski hill. Some smaller operations simply can't justify the expense of installing a dedicated ski lift, while others are located in remote locations and primarily utilized by thrill-seeking skiers. In cases like these, trucks, helicopters, and other vehicles are needed to get skiers to the top of the slope.
The PistenBully 100 is a fantastic economical option for these situations, as they are better equipped for snowy terrains than standard vehicles and are a more accessible form of transport than ski lifts or helicopters. When you want to provide your clients with the option to explore various winter sports locations, including ski hills or other far-out locations, the PistenBully can get you there.
The standard configuration of the PistenBully 100 is a spacious two-seater with comfortable seats, noise reduction, and other useful features like USB connections and a cell phone holder. Those in the cab will enjoy a comfortable journey as the snowcat handles the trek up the hill or across the terrain to the top of the ski run. You can also equip a transport cab, which can carry five to ten people and heavier loads.
Extreme Off-Roading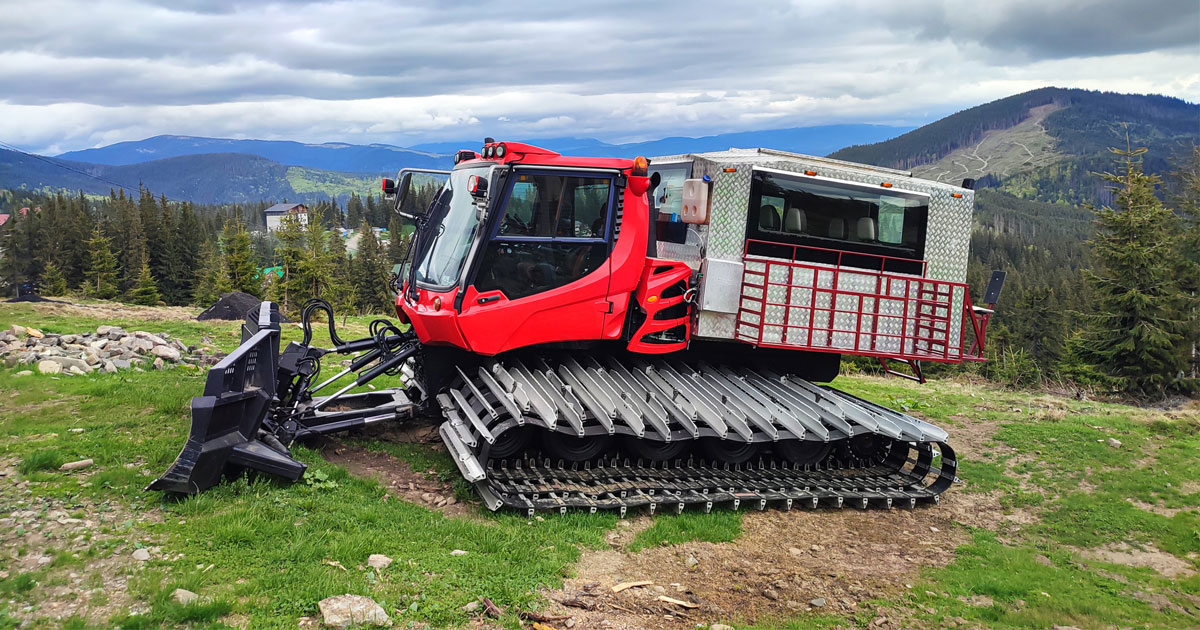 When your clients want to do some off-road exploring, the PistenBully 100 has you covered. The grid frame and four running axles provide exceptional maneuverability in rough terrain and also lend the PistenBully its climbing ability. Because this vehicle is optimized for snowy slopes and icy paths, it has a low center of gravity, increasing its stability. The tracks provide improved grip, and the plow allows you to clear the path ahead, both of which can improve your exploration capabilities.
The PistenBully 100 also features a quick-change system for attachments, allowing you to adapt to fluctuations in client off-roading demands. This flexibility enables a snowcat to travel places a standard vehicle won't, continuing the adventure long after the competition has called it a day. The comfortable cab ensures a smooth, quiet ride, and with responsive and intuitive controls, you can easily maneuver the PistenBully 100 to the most high-demand areas on your property. Your clients can experience every area of the great outdoors in all seasons.
Mining Vehicle
The PistenBully 100 boasts the most powerful engine in its class, with 20% more thrust than previous models. It also has a reduced fuel consumption thanks to fewer engine revs than the previous version. While these capabilities make it great for off-roading in many seasons, the PistenBully can also handle the heavy loads necessitated by your mining operation.
The load capabilities of the PistenBully 100 vary based on the attachments and the tracks used. The newest PistenBully 100 comes with a four-running axle grid system that uses semi-axle technology, which greatly improves its high-volume load capacity. The comfort and flexibility of the cab make it ideal for use in mines and quarries, and its power enables it to transport large quantities of stone and debris across uneven and snowy terrains. The PistenBully 100's agility renders it capable of maneuvering in tight and hard-to-reach areas that other vehicles may have difficulty getting to, and its function in icy conditions makes it useful as a year-round mining vehicle.
Disaster Management
In emergency situations such as natural disasters, some vehicles don't have the off-road and multi-terrain capabilities necessary to move debris and assist in rescue operations. The PistenBully 100 has the load capacity, agility, and engine power to provide that service in snow. Disaster management frequently necessitates moving and carrying debris as well as rescuing individuals from to hard-to-access areas, and the PistenBully 100 is a prime candidate for both use cases.
Winter weather and mountainous terrain can further limit the vehicles available for disaster management, and the PistenBully was designed to traverse such landscapes. Its high engine power and low center of gravity make for a stable and reliable vehicle in uneven and difficult snow terrain.
Rescue Vehicle
The PistenBully 100 can be supremely useful as a rescue vehicle. Snowcats are frequently used as emergency vehicles, particularly for snowy, icy, and mountainous landscapes, and the PistenBully is no different. Many emergency units have snowcat fleets to provide emergency rescue services for places that may not be accessible by cars, such as snowy mountains, muddy areas, and other terrains.
The PistenBully 100 has a large-tracked tread with automatic track tensioning, which allows it to traverse mud and snow with ease. If weather conditions make driving in normal rescue vehicles impossible, the PistenBully can prove to be an invaluable rescue option. This snowcat also enables you to transport necessary supplies to aid in the rescue process.
Wildlife Monitoring
The PistenBully 100 is exceptionally versatile and ideal for use in wildlife monitoring. The cab has a powerful but quiet engine with fewer engine revs and lower vibration which reduces the noise created. You can use its silent undercover mode to traverse difficult terrains without scaring wildlife with loud noises. Researchers frequently utilize PistenBully models to gather data without disturbing animals, all while being able to maneuver into hard-to-access areas of the wilderness.
In addition, the PistenBully 100 requires a reduced supply pressure for the engine, which makes it easier to start in cold environments. The vehicle is also exceptionally eco-friendly, with a modern and clean diesel engine, plus a diesel particle filter for cleaner output and reduced pollution. It has lower fuel consumption demands than most snowcats while maintaining full torque as the most powerful engine in its class. You can explore diverse terrain while reducing your impact on the environment around you.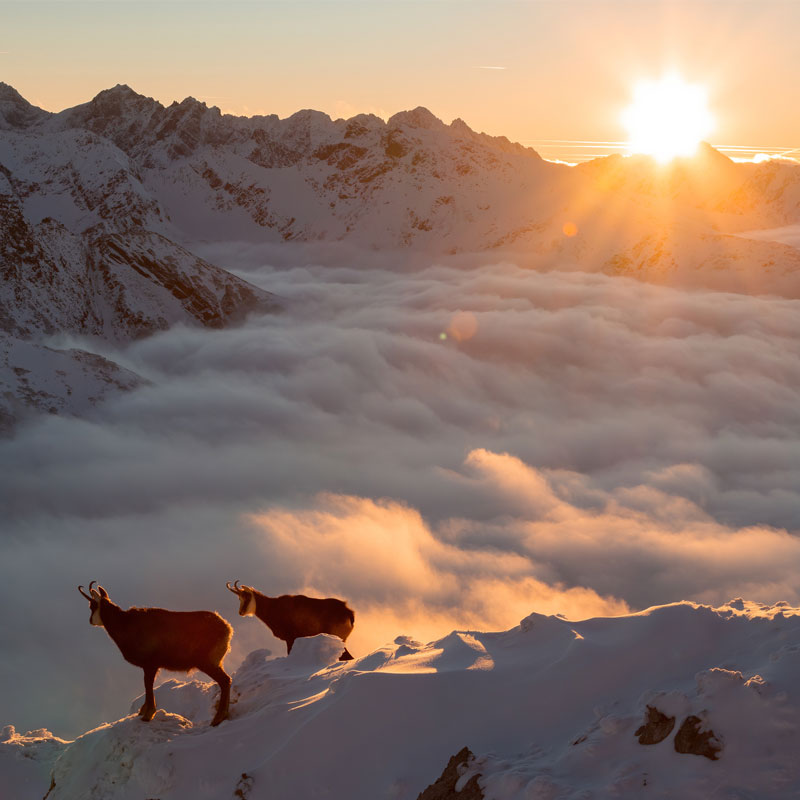 Construction Vehicle
Many commercial construction ventures require all-terrain and agile vehicles with high engine power and loading capacity. Just as the PistenBully 100 is effective for moving large quantities of debris for emergency situations or mining ventures, it can also be used for construction. Its ability to easily move heavy loads across uneven, muddy, snowy, and hilly terrain is useful for everything from new construction to ongoing building maintenance needs. As an added benefit, the chassis and suspension are designed for comfort and provide a smoother, easier ride for the driver.
Thanks to the several attachments available for the PistenBully 100, whether you require a plow, tiller, snow blower, or another function for your job site, this snowcat can handle all your needs. There's no need to rent multiple construction vehicles because a snowcat can handle them all. With its powerful engine, high traction, and versatility, the PistenBully 100 can prove an effective way to reduce costs while meeting the necessary safety standards for construction vehicles.
Lease a PistenBully 100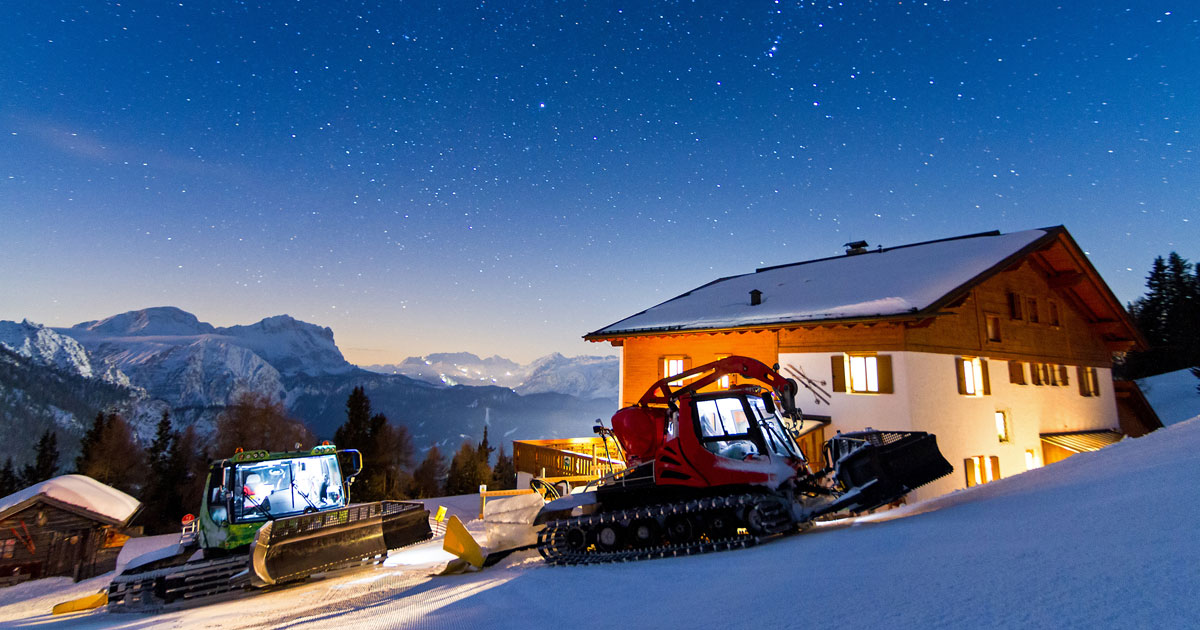 With so many adaptable applications for the PistenBully 100, this snowcat is a cost-effective way to handle a diverse array of commercial needs. At Ski Cat Company, we provide a fleet of PistenBully 100s available for lease. We know that since not every business requires a flexible vehicle like this year-round, leasing can be much more cost-effective than buying and storing your own.
Whether you require a PistenBully 100 snowcat during the winter months for snow removal or grooming or during other seasons for touring, construction, and more during extreme weather conditions, Ski Cat Company has you covered with the perfect vehicle for your needs.
Contact us today to inquire about leasing a snowcat.