Skip to Content
The History of the PistenBully 100 Snowcat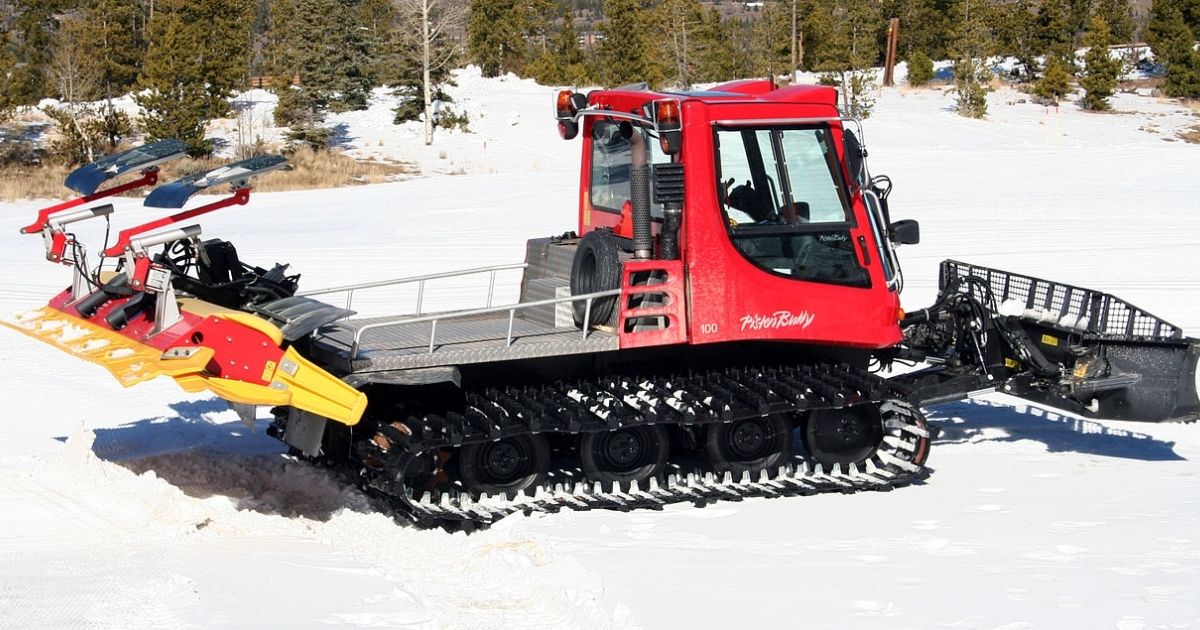 The PistenBully 100 is one of the most versatile snowcats ever produced. Its overwhelming success around the world established this machine as a leader of the industry. The primary purpose of this all-in-one machine is to traverse snow-filled locations. Before we dive into the history of the PistenBully 100 Snowcat, let's first answer some basic questions about snowcats.
What is a Snowcat or Ski Cat?
A snowcat, also sometimes called a ski cat, is an enclosed-cab, truck-sized, vehicle that operates on tracks designed to move snow. The name dates back to 1946 and the Tucker Sno-Cat Corp. The vehicle was unparalleled in the industry until competitors began entering the market. By then, the "snowcat" had pretty much branded the market, much like Kleenex did with tissues. Additionally, Tucker was well known for using four tracks on its vehicles. The snow vehicles have been used by military personnel, government agencies, and utility companies.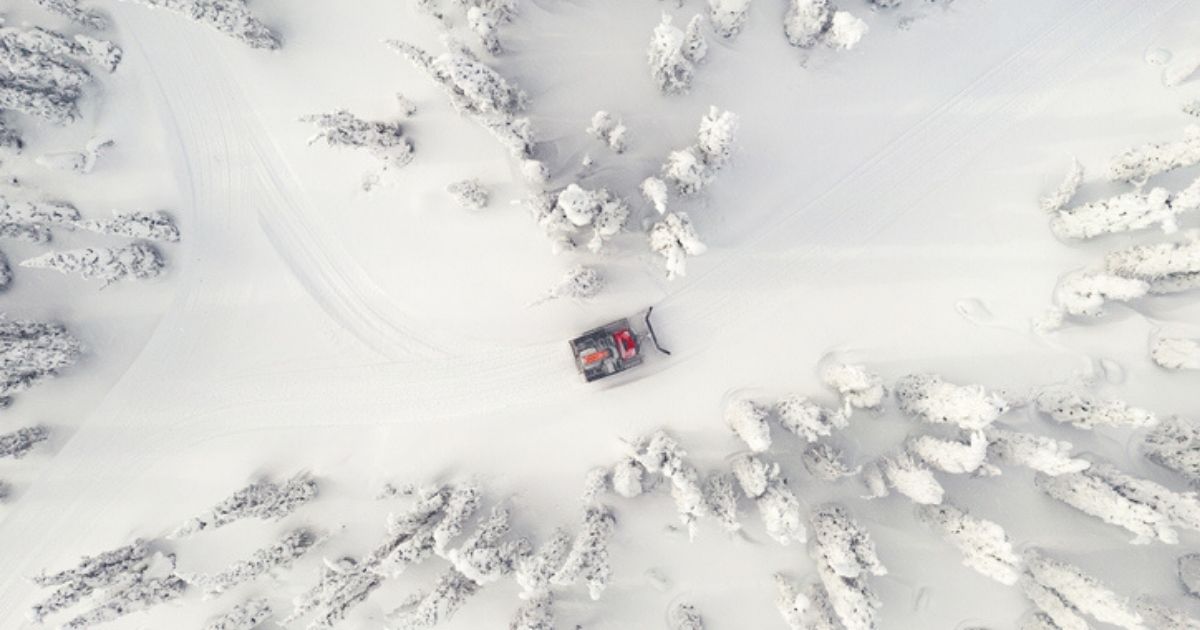 A snowcat, also sometimes called a ski cat, is an enclosed-cab, truck-sized, vehicle that operates on tracks designed to move snow. These machines have been used since the early 1900s, though the name didn't appear until 1943. Snowcats facilitate myriad tasks in snowy climates, including evacuations, seismic studies, farming, and more.
The wheels have a solid foam interior with a rubber coating on the outside, while the cab is usually made of steel, aluminum, or rubber. The entire machine is optimized for frigid temperatures with a durable windshield and a forced heating system. However, it is also used in temperate areas where the ground is not solid, such as in peat bogs or marshes.
What Is a PistenBully 100?
A PistenBully 100 is a closed-cab snowcat with a large plow on the front. Developed in Germany, this snowcat was designed to handle long treks over snow or ice while also boasting extremely high maneuverability. This makes it perfect for skiing adventures or long travel across rugged snow-filled terrain.
PistenBully is one of the most well-known brands of snowcats on the market. The manufacturers in Germany have continued to push the limits of excellence with their vehicles and demonstrate a serious commitment to their clients by always listening to their requests without reservation and doing their best to accommodate them.
Is a PistenBully 100 a Cross-Country Vehicle?
Yes, the PistenBully 100 can be used as a cross-country vehicle. While many owners only use the PistenBully 100 to clear snow and create ski locations, the vehicle can absolutely handle harsh conditions for long periods at a time.
Even if you don't need to go that far over such tough conditions, the PistenBully 100 is built to handle almost any snow-covered terrain without any problems. The cockpit was built with long-distance use in mind, so all the controls are easily accessible, and the seating is comfortable enough that you don't even feel the bumps in the road.

If you have a unique application that you need your PistenBully 100 to handle, Kässbohrer and aftermarket part manufacturers have developed a range of appliances that can be installed on your PistenBully 100, so it can do just about anything you need it to do.
Some of these aftermarket options include:
Combined Tracks
All-Way-Blade
Passenger Cabin
Ski Box
While this is not a definitive list, there are numerous options you can use to modify your PistenBully 100, so it can tackle just about anything. Changing the tracks and blade out can enable full year-round use of the snowcat by giving it the traction it needs to navigate terrain beyond snow, such as wet marshes.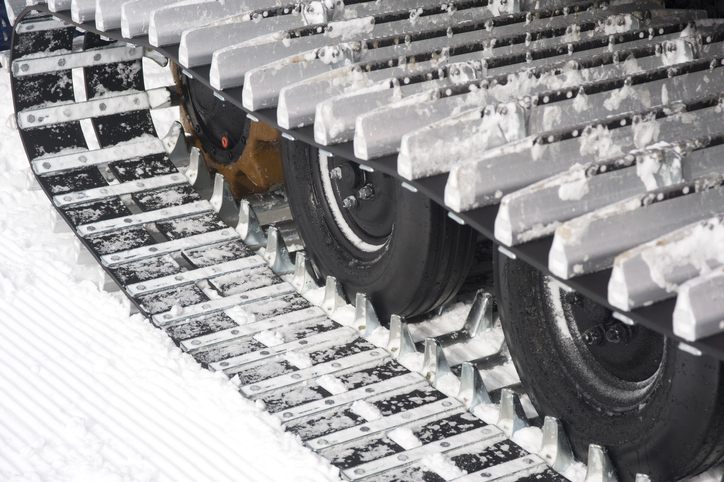 In fact, the development of snow groomers even popularized a new sport – cat skiing. This is a type of skiing that lets you explore beyond commercialized ski resorts by allowing you to make your own snow hill or travel far out into normally inaccessible spots. You can also add modifications to the vehicle, such as passenger space and ski racks to accommodate your friends and your gear.
The History of Snow Groomers and the PistenBully
Snow groomers are somewhat like snow plows, but these two types of vehicles are suited for very different jobs. The primary purpose of snow grooming is maintaining skiing trails to ensure that they are fully operational. Many resorts now have dozens of these machines or attachments in operation at any given time so they can simultaneously manage all their hills.
Today's snow groomers are incredibly innovative with high-tech engineering and design. But when they first came out in the 1960s, these machines were often bulky, fuel-inefficient, and heavy on emissions. They were far too impractical for most people to own for personal use, so they were mainly employed by sports operations, ski resorts, and cabin owners.
These vehicles are now called snowcats, a term that originates from the manufacturer Tucker Sno-Cat who operated one of the earliest snow grooming machines on the market. Sno-Cats were the first manufacturers to implement a track design for consumer vehicles, although this technology had been used by the military and research projects for years.
One of the most prominent manufacturers in the snow grooming industry after the Snow Trac was Karl Kässbohrer Fahrzeugwerke GmbH, also known as Karl Kässbohrer. Before this company started the PistenBully brand, they manufactured truck trailers and buses. Some of their most iconic achievements are the fully metal-framed bus and the revolutionized trailer axles giving trucks an up-to 12-ton towing capacity.
In 1969 with the introduction of the PistenBully 120 B snow groomer, they revolutionized the industry, which was severely lacking in a competitive manufacturer. This model came with a hydrostatic drive, completely changing the game of hydraulic run heavy equipment by allowing for complete control of the speed. Previous motors were made using a standard transmission, limiting the speed control of the vehicle and making the overall operation of them tentative and dangerous if the driver wasn't careful.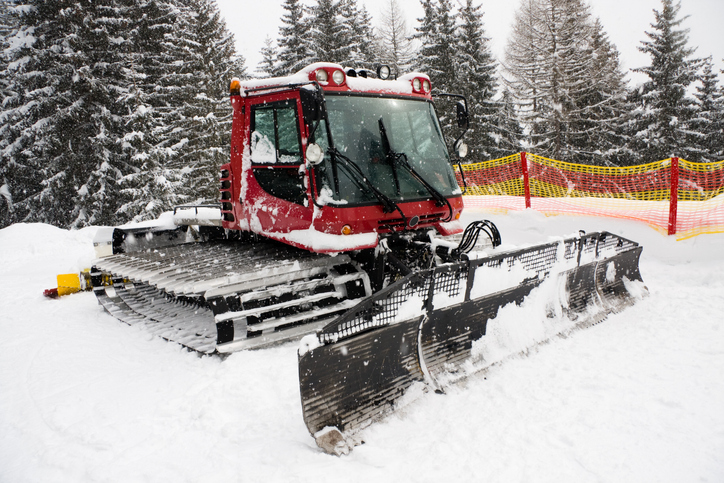 The addition of the hydrostatic drive in the PistenBully started a new era for heavy equipment in general. Many manufacturers of heavy equipment started to change their designs to include them, changing the entire industry for the better.
Although the company was the leader in the snow grooming market, it began to fall apart in 1993. The exact reason is unknown, but it's thought to have resulted from a conflict between owning parties after the death of the owner Karl Kässbohrer. By 2002, Kässbohrer eventually split into two differently owned companies separating into Kässbohrer Geländefahrzeug AG and EvoBus. The new Kässbohrer was bought out by the management of the old company, and they still manufacture PistenBully models today.
Now the Kässbohrer manufacturer is responsible only for the PistenBully brand, and they continue to raise the bar of excellence for their snow groomers every year. Their newest model is the PistenBully 100 E, an all-electric version of the powerful PistenBully 100.
This brand is still the leader in snow groomers despite the hardships that it faced in the past. With the progression of technology and the availability of new machinery, they can now manufacture an indispensable vehicle that can navigate almost any environment.
Who Makes PistenBully?
The company behind many of the long-standing snowcats today is Kässbohrer Geländefahrzeug AG. As a German-based manufacturer, Kässbohrer has spent over 50 years manufacturing snowcats, and many of them have been used in famous voyages across the Antarctic or setting up the winter Olympics.
While Kässbohrer has been the center of the PistenBully market, they have designed and manufactured their machines to be better than their competitors. Even as early as 1969, the PistenBully was setting the standard for snow groomers, shipping out hundreds of their first series machines to the USA and Japan.
Their goal in manufacturing the PistenBully series was to bring a total package option to the snowcat machines while listening to the needs of the customers. In fact, to prove their dedication to the customers, they initially traveled to the country of sale any time they received a new request for their machines and remained in constant contact with the buyers to ensure everything went smoothly.
Do They Still Make the PistenBully 100?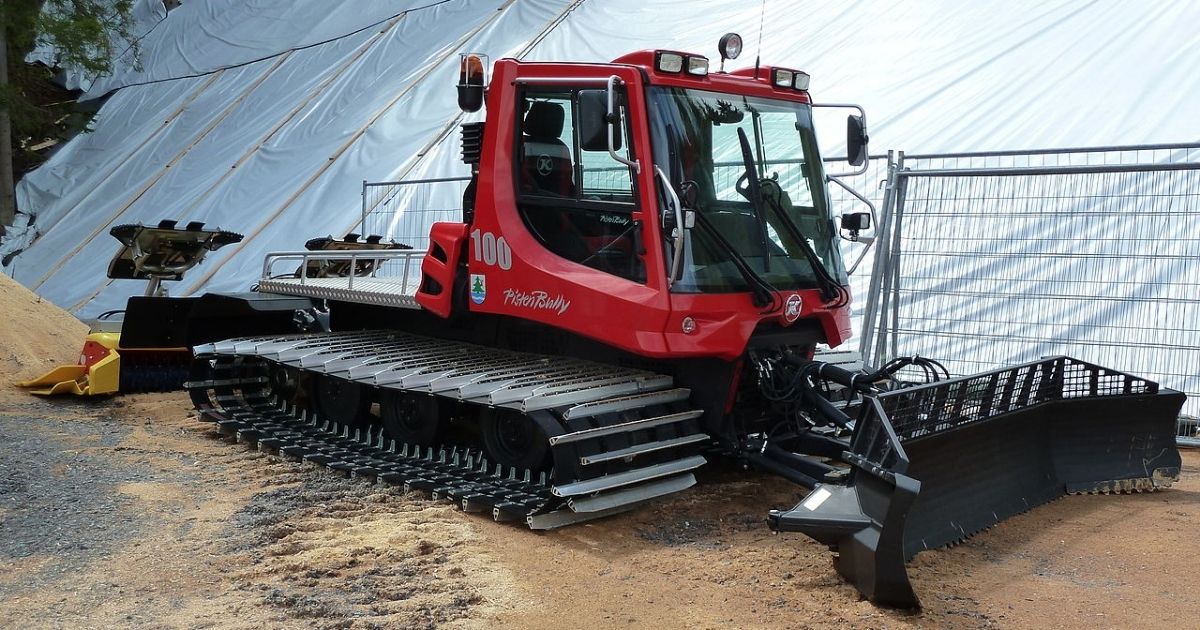 Kässbohrer is still the lead manufacturer of the PistenBully series, but they have since moved on to a different model of PistenBully 100 called the PistenBully E. Although the original manufacturer has stopped making this model of PistenBully, the original snow groomer can still be leased, rented, and periodically purchased through companies such as Ski Cat!
Why Do You Need a Snow Groomer?
While we've touched on the more common uses of a snow groomer, this is only the beginning of the applications this machine can handle. Military, research, industrial application, and a slew of other applications allow these machines to do anything you would need them to do in the snow. Even farming applications for crops such as sugar beets are open for the PistenBully models, giving them an entirely unique application for nearly any task.
For people living in heavy snow, a tool such as a snow groomer might be the only way you can get to and from a location. This is especially true for fans of cat skiing, which requires the use of something similar to the PistenBully 100 in order to be comfortable.
Where Can You Buy a PistenBully 100?
Although the PistenBully 100 has been discontinued by the manufacturer for another model, there are plenty of opportunities to get your hands on this all-purpose vehicle!
Here at Ski Cat Company, we own a fleet of PistenBully 100s that you can lease at affordable prices. Our leasing options provide reliable delivery and pickup services, along with insurance to ensure you're protected. We understand that normal wear-and-tear is completely expected when working with this kind of vehicle and the insurance policy acknowledges this.
Since most people use the PistenBully 100 as a means of creating temporary skiing locations, you don't need to purchase one if you don't have a long-term or specialized need for it. Even still, Ski Cat can accommodate some special use scenarios, so be sure to ask about their options beforehand.
Contact Ski Cat to learn if a PistenBully 100 lease is the right fit for your needs. The PistenBully 100 is an incredibly powerful and versatile machine with many applications. It offers maximum power, easy transportation, and industry-leading performance in all types of snowy terrain.