Skip to Content
Snowcat FAQ: What You Need to Know Before Leasing a Snowcat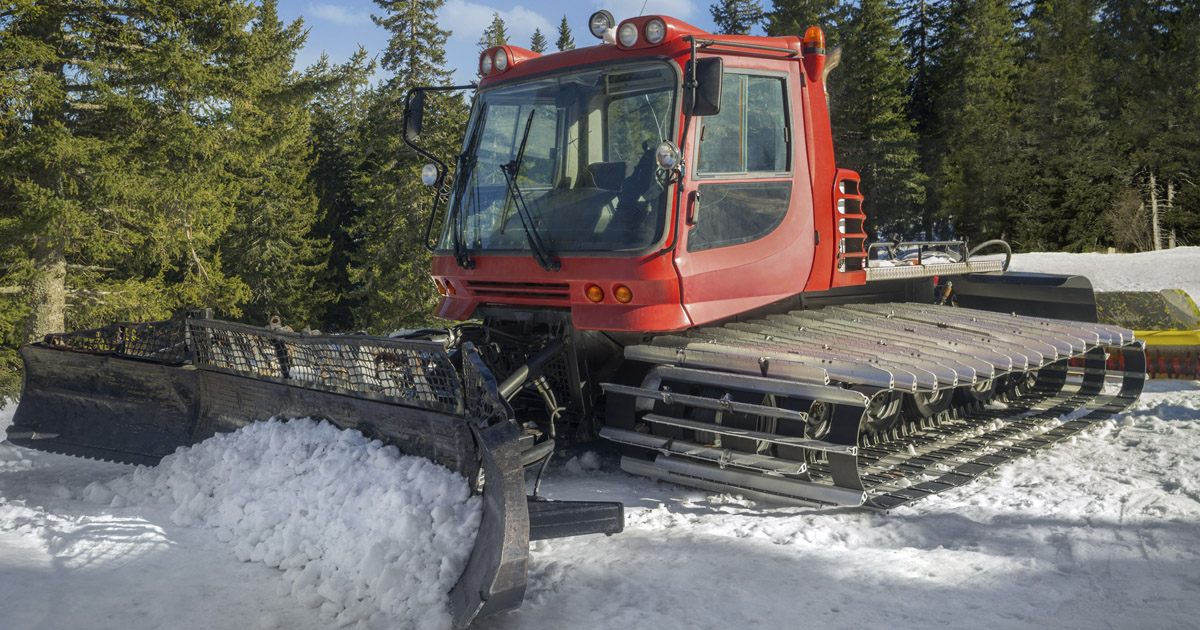 Snowcats are unique vehicles that are an essential piece of equipment for many businesses, clubs, resorts, and other property owners who must deal with snow. For ski hill owners and operators, a perfect groom is of utmost importance for maintaining the ski surface and keeping customers happy and coming back.
Snowmobile clubs and some government agencies may also use snowcats to keep snowmobile trails groomed. Other businesses, like lodges or snow tubing facilities, can use snowcats to keep their grounds maintained. Even private property owners can benefit from a snowcat. With the right track, a snowcat can even be used in warmer snow-free conditions.
If you're in the market for a snowcat, it's essential to learn as much as possible about these machines before you make the decision to buy or lease. Take a look at these FAQs to get started.
Q: What Is a Snowcat?
Snowcats are enclosed, fully tracked vehicles designed to move on snow and rough terrain. They can be used for plowing, grooming mountains and trails, creating snow terrain parks and obstacle courses, and transporting passengers across the snow.
Snowcats are roughly the size of a pickup truck and can be customized with different types of tracks and attachments to fit your needs. Snowcats feature an enclosed portion to keep the driver warm and out of the harsh winter elements. They are also equipped with bright lights to allow for grooming overnight to get ski runs and trails ready for the morning.
Q: How Do You Groom With a Snowcat?
A good groomer can turn messy, deep snow into a smooth and even surface by using a snowcat to pack down and improve surface conditions. As new snow falls, it is light and traps a lot of air. This means freshly fallen snow is not very dense and therefore cannot support much weight. The ideal result of a groom, in most cases, is a corduroy pattern left behind in the snow, which is widely regarded as a good surface for skiing, snowboarding, and riding. The corduroy pattern is created by the drag or track setter that is connected to the back of the snowcat.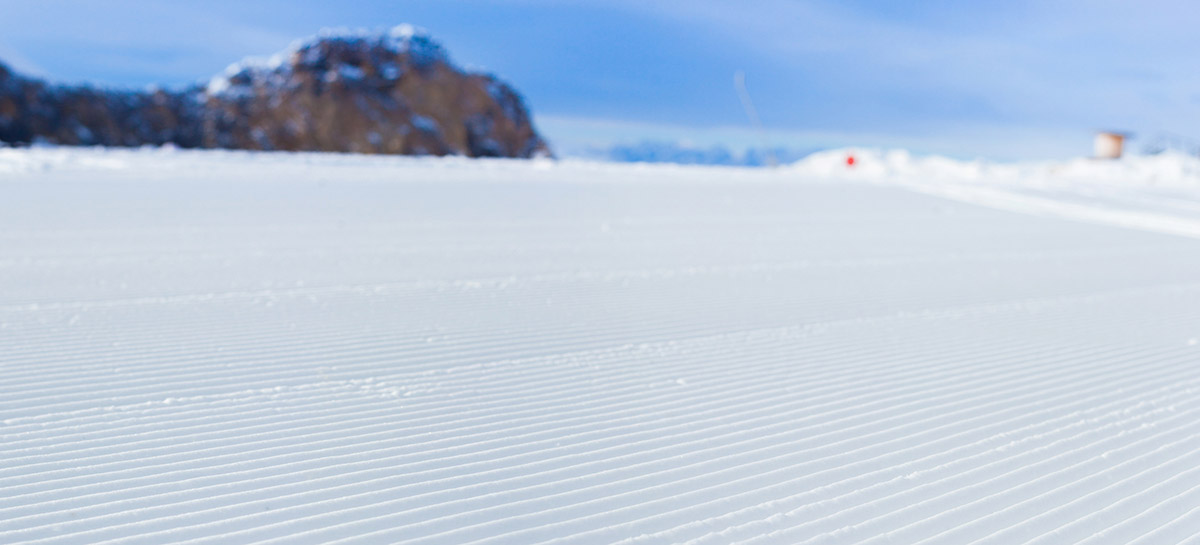 The PistenBully 100 has a track setter attachment that works in unison with a snow tiller to create perfect ski tracks. The snow tiller is important as it works to break up icy or hardened snow so the track setter can make it soft and smooth again. You can also create a VarioTrack Designer, which is a tiller integrated into the track setting that allows the operator of the PistenBully 100 to prepare a left-hand or right-hand track, as well as create up to three parallel tracks at one time.
Q: What Is Tilling and Why Is It Important?
Tilling the snow is basically "churning" up the snow before the track setter lays it back down as corduroy. It is an aggressive process that requires a great deal of power, and snowcats can meet this demand.
When warmer winter weather causes icy conditions or hardens snow, a snowcat can till the snow to break up the ice with its auger bar, creating smaller particles that can be groomed into an easily traveled trail. A harder surface with smaller particles can help skiers and other riders move more quickly by reducing friction. [1]Almqvist, A., Pellegrini, B., Lintzén, N., Emami, N., Holmberg, H. C., & Larsson, R. (2022). A Scientific Perspective on Reducing Ski-Snow Friction to Improve Performance in Olympic … Continue reading
Q: What Types of Terrain Are Best for Grooming With a Snowcat?
Snowcats are versatile machines that can groom a variety of snowy terrain types. Depending on the track you choose, a PistenBully 100 can drive across all types of snowy terrain including steep slopes, ice, rock, wooded areas, and moorland.
With a properly equipped snowcat, you can groom snowmobile trails, cross-country ski trails, downhill slopes, and personal trails. In addition to trail building, snowcats can also be helpful in creating snow terrain parks with obstacles and jumps for skiers and snowboarders to enjoy.
Q: Do You Have to Make Your Own Tracks?
While there are do-it-yourself options when it comes to snowcat tracks, SkiCat Company provides a variety of options to our customers. There are three track types to choose from for the PistenBully 100 based on your needs: combined track, steel track, and X-Track.
The CombiPlus track, made from aluminum and steel, works everywhere from steep slopes to icy terrain. The toothed steel edge of this track provides protection against damage and wear that can be caused by the soil if the snowcat is being driven on thin layers of snow.
The steel track works well for extreme tasks, providing maximum thrust in steep terrain on ice, rock, and heavy snow. Stability and good climbing performance are characteristics of the steel track due to a full complement of spikes on the track.
The X-Track allows for the PistenBully 100 to be used on winter and summer terrain, including boggy and swampy ground. If you're grooming ski runs and other lightly snow-covered areas, the X-Track will provide good stability and grip. [2]Kässbohrer Geländefahrzeug. (2020). X-Track. PistenBully. Retrieved April 25, 2022, from … Continue reading
Q: What Kind of Distances Can a Snowcat Travel?
This depends on the type of snowcat and attachments you are using, as well as the terrain being navigated. Snowcats can reach speeds as high as 25 miles per hour and can travel various distances depending on the size of their gas tank, as well as the type of work they're being used for.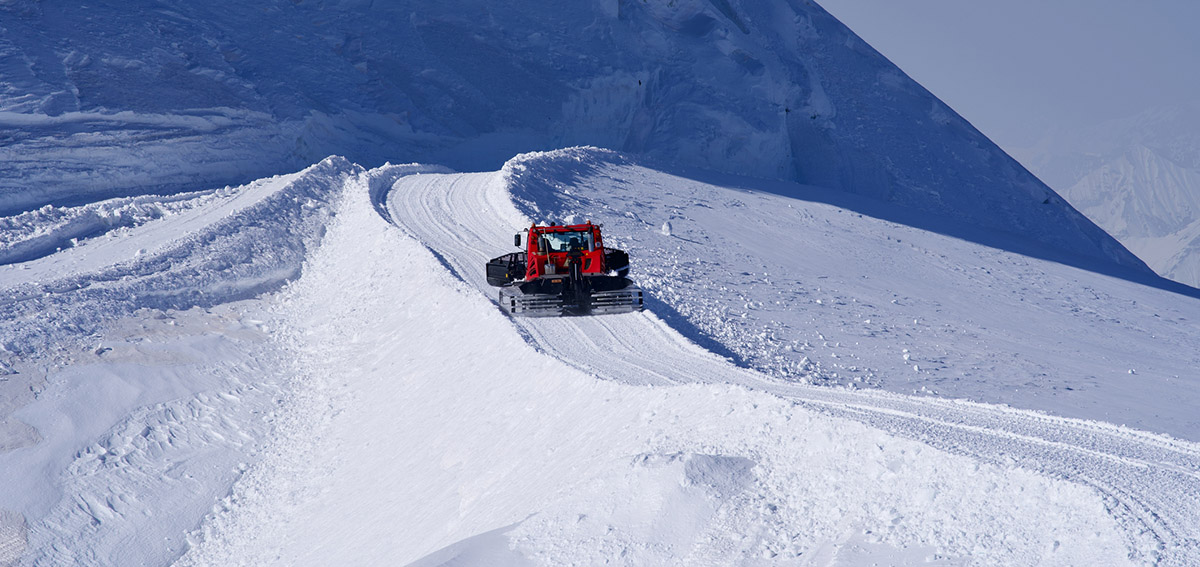 The PistenBully 100 can reach speeds up to 15 miles per hour and has a fuel tank that holds just below 40 gallons. Base fuel consumption is 2.24 gallons per hour, meaning you could use the PistenBully 100 for up to 17 hours before refueling when using it for light work on flat terrain. [3]Kässbohrer Geländefahrzeug. (2019, April). 100 PistenBully 100. PistenBully. Retrieved April 25, 2022, from … Continue reading
Q: How Many Passengers Can a Snowcat Transport?
The PistenBully 100 can seat up to 10 passengers, depending on the cabin you select. The cabins are equipped with seat belts, windows, skylights, Bluetooth-connected speakers, and heaters to ensure maximum guest comfort. Passenger cabins are perfect for safely transporting people to tour or ski remote areas of a mountain. They can also be used to escort guests to secluded overnight cabins.
In addition to transporting passengers, passenger cabins can transport materials across the snow to remote locations as well. This can be useful when doing winter tasks such as making repairs in snowy mountain locations or servicing guests staying in remote cabins. Additionally, if you are using a track that can accommodate summer conditions, transporting materials to and from wooded sites can also be easily done with a snowcat.
Q: Can a Snowcat Be Used for Snow Removal?
Yes. Snowcats can be used to remove excess snow from trails, sidewalks, parking lots, and driveways. Most snowcats have plow attachments available, making them excellent tools to use for personal or business-related snow removal.
It is much more powerful than a standard plow connected to a pickup truck, as it can move enormous amounts of heavy snow in a short amount of time. A snowcat's ability to plow snow is a great advantage when it comes to storage since it is an all-in-one machine. There is no need to purchase and store multiple large pieces of equipment—a snowcat can do every job, saving you time, space, and money.
Q: Can a Snowcat Be Used in Areas Without Snow?
If your snowcat is equipped with the right type of track, it can be used year-round as an all-season vehicle. Ski Cat Company features the PistenBully 100, which can be driven across meadows, swamps, bogs, moorland, and wooded areas with very little damage to the terrain or snowcat when equipped with the X-Track. You can be sure of your safety in wet and swampy ground thanks to the optimum stability. This track is quiet on hard surfaces and asphalt roads thanks to the rubber grousers.
Q: What Are the Benefits of Trail Grooming?
Grooming snow is important for many reasons, one of which is to make the surface safe and enjoyable to use. Without grooming, bumps and ruts can form. This uneven surface can be dangerous for skiers, snowboarders, and sledders. Poor grooming conditions on ski hills can lead to an increased risk for injury, which could be a liability to your resort. [4]Bergstrøm KA, Ekeland A. Effect of trail design and grooming on the incidence of injuries at alpine ski areas. British Journal of Sports Medicine 2004; 38:264-268. … Continue reading
For those with sledding hills, a groomed path is easier for sledders to climb, meaning they'll return to your location versus one that has deep, difficult-to-navigate snow. Grooming snow also helps snow to remain on the ground longer, as it won't blow away like un-groomed snow. Groomed snow melts slower as well since it is packed down.
If you are maintaining snowmobile trails, grooming is important to reduce the likelihood of the machines sinking in deep snow. A groomed snowmobile trail allows for faster, safer, and more efficient travel. If you choose not to groom a snowmobile trail, the trails can become rutted, which can lead to back injuries and damaged grounds. It can also encourage riders to go off-trail to avoid the poor conditions, which can lead to additional problems for landowners.
Finally, research suggests that trail grooming does not negatively affect local wildlife. [5]Bjornlie, D. D., & Garrott, R. A. (2001). Effects of winter road grooming on bison in Yellowstone National Park. The Journal of wildlife management, 560-572. https://doi.org/10.2307/3803109 Farmers, ranch owners, ski resorts, lodges, and other property owners can remain good stewards of the land while creating a safer snow surface for residents and guests.
Contact Ski Cat Company to Take Your Next Steps
Now is the time to take the next step by leasing or buying a snowcat. With the versatility of these machines, you're sure to find multiple uses that can help you maintain property, trails, and ski surfaces.
Sources:

↑

1
Almqvist, A., Pellegrini, B., Lintzén, N., Emami, N., Holmberg, H. C., & Larsson, R. (2022). A Scientific Perspective on Reducing Ski-Snow Friction to Improve Performance in Olympic Cross-Country Skiing, the Biathlon and Nordic Combined. Frontiers in Sports and Active Living,  

https://dx.doi.org/10.3389%2Ffspor.2022.844883

↑

2
Kässbohrer Geländefahrzeug. (2020). X-Track. PistenBully. Retrieved April 25, 2022, from

https://www.pistenbully.com/_Resources/Persistent/d/3/6/8/d368a752c74153ef3006bc1f999d0a0487d90227/PistenBully_X-Track-Kette_EN.pdf

↑

3
Kässbohrer Geländefahrzeug. (2019, April). 100 PistenBully 100. PistenBully. Retrieved April 25, 2022, from

https://www.pistenbully.com/_Resources/Persistent/e/1/8/7/e187ca01e80775f78555d7c414945ff2e78ac844/PistenBully_100_Prospekt_EN.pdf

↑

4
Bergstrøm KA, Ekeland A. Effect of trail design and grooming on the incidence of injuries at alpine ski areas. British Journal of Sports Medicine 2004; 38:264-268.

http://dx.doi.org/10.1136/bjsm.2002.000270

↑

5
Bjornlie, D. D., & Garrott, R. A. (2001). Effects of winter road grooming on bison in Yellowstone National Park. The Journal of wildlife management, 560-572.

https://doi.org/10.2307/3803109