Skip to Content
BRAVO! The PRESTIGIOUS PistenBully 100 Snowcat Is Here!
If you've ever been to a ski resort, chances are you have come across a snowcat. This large, enclosed cab, fully tracked vehicle is primarily used to groom and maintain ski runs, but it can carry passengers and cargo over all types of rough terrain that is otherwise impassable with typical passenger vehicles. There are many different types of snowcats used by many different people all around the world for various purposes, from personal transportation during inclement winter weather to polar expeditions, seismic studies, search and rescue operations, and medical evacuations.
Why Invest in the PistenBully 100
The PistenBully 100 is a powerful snowcat perfect for contractors, utilities, backcountry guide services, Nordic ski clubs, snow fun parks, and cabin owners alike. With a variety of attachments to choose from, including winter grooming equipment, PistenBully 100 offers unparalleled versatility to perform any type of winter job. With innovative, industry-leading technology and engineering, this model's power, performance, and dependability are simply unmatched. Before you know it, the PistenBully 100 will be a household name with a reputation for going where no other snowcat has gone before.
What Can the PistenBully 100 Do?
PistenBully 100 is the most powerful and versatile snowcat in the industry. This snowcat can do it all from transporting cargo to clearing avalanche paths, meaning you can travel anywhere on the snowiest of days and take everything you need. Whether you need it for your winter construction project or just to make some tracks in the snow, you will be amazed at the performance of the PistenBully 100.
The PistenBully 100 is reliable and efficient with its durable, high-speed tracks that allow it to glide with ease over deep snow. This snowcat is a workhorse that can clear large spaces and even level off your terrain. Its powerful engine can reach speeds up to 15 miles per hour. It has a long track life and can navigate in any wintry condition, from powdery snow to packed ice. It can also be equipped with a variety of attachments that allow it to perform many different functions, including a plow, auger, and blower. Its powerful engine, long track life, and ability to perform a variety of functions on its own make it the top contender for any job. A further look into the PistenBully 100 technical data sheet reveals the additional capabilities of this must-have snowcat.
The Latest in SnowCat Technology to Revolutionize the Industry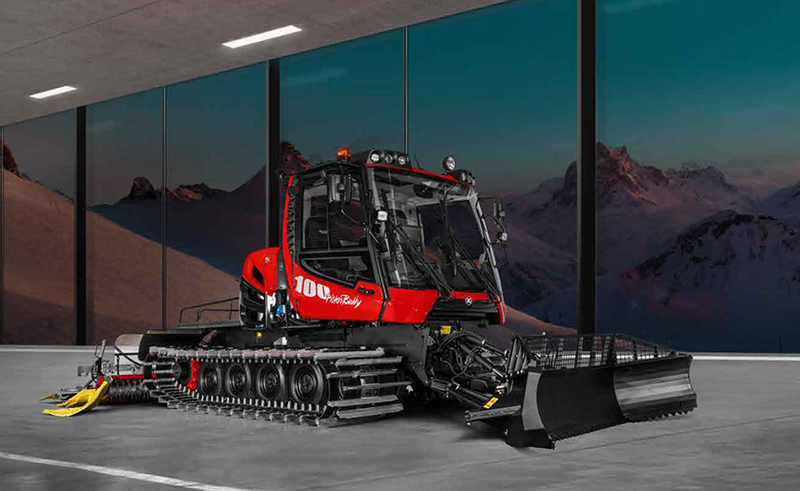 PistenBully 100 technology is designed to provide customers with a snowcat that can do anything, anywhere, anytime in the snow. It is the ultimate multi-purpose snowcat for any job imaginable, thanks to its advanced technology.
The World's Most Eco-Friendly Exhaust Treatment Technology
The PistenBully 100 contains the world's most eco-friendly exhaust treatment technology. By changing how this vehicle burns fuel, it has become possible to generate less air pollution from the exhaust. The new system does not produce as much particulate matter or nitrous oxide emissions as earlier models, which results in cleaner air and healthier lungs for everyone nearby.
Semi-Axle Technology for Higher Payloads
The PistenBully 100 has semi-axle technology for higher payloads. This allows it to carry more cargo than other snowcats in its class, which is important when you need to do a lot of heavy lifting. The PistenBully 100 can climb up impressive gradients while bulk hauling equipment with ease thanks to the power and efficiency that the engine provides.
An Inventory of PistenBully 100 Equipment
The PistenBully 100 equipment comes in handy as you operate the machine for its various functions. This includes snow plowing, snow grooming, and maintaining trails. Standard equipment is included with the purchase of a PistenBully 100, with the option to add additional equipment to meet any of your outstanding needs.
Included Equipment for Your PistenBully 100
This piece of machinery comes packed with everything you might need. The following equipment is standard for any PistenBully 100:
Adjustable Steering Wheels: No matter what your machine, without the right steering, you won't get far. The steering wheel is adjustable to fit the needs of different drivers. This allows for ease of use and comfort, and it can fold away when not in use.
Air-Sprung, Heavy-Duty Seats: Comfort matters, and this machine aims to please. The seats can be adjusted up and down and side-to-side. This keeps the driver comfortable during long hours on the road. The seats are also air-sprung, which increases safety and stability during the journey.
Diesel Particle Filter: When you're in the elements, the air you breath shouldn't feel like exhaust. The DPF is a diesel particulate filter that helps prevent the emission of hazardous fumes into the environment. This is beneficial for the health of those around the machine and prevents negative environmental effects. The DPF also protects the machine from any dangerous fumes that could impact its long-term performance.
LED Lights: Lights should ensure your vision is clear and other riders have you in their sights. The PistenBully 100 has LED lights that are used for better visibility at night. This is helpful for those working outside during the darkness of the evening or early morning or when stormy weather conditions limit visibility.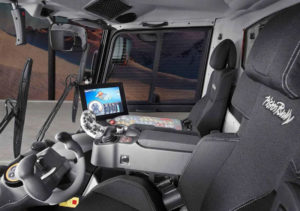 Heated Side Windows: The side windows are heated to prevent them from fogging up as temperatures drop. Foggy windows limit visibility while driving, which could lead to accidents. Heated side windows improve safety by removing this condensation and make it easier for the driver to warm up the vehicle during an especially cold shift.
Additional Equipment To Consider [H2] While that's plenty of included equipment, there's still add ons and extras to make sure you are happy with your ride. In addition to equipment included, there are multiple optional features that can be added to the PistenBully 100, including:
Fixed Running Wheels: The fixed running wheels are a helpful addition for those working in deep snow. These wheels help to distribute the weight of the machine more evenly across a wider surface, providing better traction.
Comfort Seat: The comfort seat is ideal for those working long hours on the PistenBully 100 as it supports a comfortable sitting position and enhances ease of use. This seat also includes various heating settings, a 3-point safety belt to buckle in, and lumbar support.
Cabins (for up to 8 people): The cabins are for people who have a large amount of equipment to transport or want to bring their friends along on a trek. This addition can hold a maximum of 740 kg.
Technical Package: PistenBully 100 attachments are perfect for adding functionality to your machine, such as a snow blower on the front to clear snow. The PistenBully 100 can also be fitted with a variety of attachments, such as blades and plows.
If you have questions about which additional equipment would be best for you, just chat with our team.
What's New in The PistenBully 100 Model?
This isn't your grandpa's machine. The PistenBully 100 continues the brand's tradition of innovative design and engineering excellence.
While keeping all its familiar features, the PistenBully 100 boasts several improvements and new technologies:
Updated Cockpit Design: Enjoy a more comfortable ride on the job with an improved cockpit layout designed to enhance visibility, safety, and freedom of movement.
Intuitive Steering Functionality: The PistenBully 100 features a new integrated operating concept with intuitive steering functionality, including a new control console and a three-spoke steering wheel with an ergonomic design.
Ergonomic Workstation: Take work to the next level with new ergonomically designed work surfaces and seats that can adjust to support your body on long trips.
Impressive Powerful Engine: The PistenBully 100 is powered by an impressive new engine that is considered the most powerful in its class (186 kW / 253 hp). It provides even more power and, as a result, improved performance on hills as well as in deep snow.
What Is It Like to Own a PistenBully 100?
When you drive the PistenBully 100, it feels like your own personal tank. The power behind this machine is unmatched by any other vehicle, allowing you to ascend steep inclines while retaining precise control over the steering wheel. The steering wheel is incredibly responsive, giving the user an unprecedented level of control when driving through powder and other difficult conditions. It also allows you to traverse off-road when needed.
Most people who have driven the PistenBully 100 will tell you that it offers a distinct feeling of freedom. When you're on this machine, there are no limits to what you can do. You'll be able to drive through just about anything, letting you complete whatever task you must do without fear of getting stuck. This is an experience that many people compare to skiing or snowboarding on snow-covered backcountry roads, but with more precise control. When you purchase the PistenBully 100, you can take on even the most challenging terrain with ease.
Common PistenBully 100 Applications in the Industry
The PistenBully 100 can be used for a variety of different purposes, including:
The PistenBully 100 can transport equipment and other materials to different areas that are not easily accessible when using regular vehicles. It's also perfect for transporting guests around your ski area, snowmobile trails, and even over the ice for fishing or ice skating on your favorite frozen lake.
The PistenBully 100 is the most effective option for plowing snow. It's great for anyone who needs to clear their driveway, sidewalk, parking lot, or trail of heavy, wet snow that other snowplows cannot move. Because it can move enormous amounts of snow in a short amount of time, you can even use this vehicle to make extra cash at your business by keeping it on-site and offering to clear the walks for your guests as they arrive.
The PistenBully 100 is perfect for those who want a highly capable vehicle for work and play at their ski resort or other facilities that require snowcats. It's perfect for transporting guests to the most remote places so they can enjoy their favorite sports or activities, as well as providing clear access to trails and slopes at snow parks.
The PistenBully 100 can help you groom your trails and slopes with ease. You can use this machine for side-to-side grooming or for finishing passes. It also reduces the amount of time needed to groom your trails so you can take care of other responsibilities.

Lease a PistenBully 100 Today
No matter what you need to use it for, the PistenBully 100 will get the job done right. This machine has been designed to provide users with an experience that is unparalleled by anything else on the market. With this powerful vehicle, you can lift heavy cargo, transport it quickly, and navigate over most obstacles with ease so you don't have to worry about getting stuck.
The PistenBully 100 is a perfect option for anyone who has been looking to simplify their snow operations. With its industry-leading technology and intensely customer-focused design, this machine will empower you to combat your top workplace challenges that other snowcats cannot manage. Whether it is driving on trails or plowing snow, the PistenBully 100 will get the job done quickly and effectively, getting you back to having fun on your favorite slopes in no time.
Contact Us to Learn More Today
At Ski Cat, our goal is to ensure you are having fun, whether that means leasing or buying a snowcat. With over 25 years in the industry, we believe in reliable and quality service. To learn more about the PistenBully 100: contact us online, call us at (510) 882-1498, or email at info [at] skicatcompany.com.
We're here to answer questions and make our customers' work easier, safer, and more enjoyable.