Skip to Content
Exploring PistenBully Snow Groomers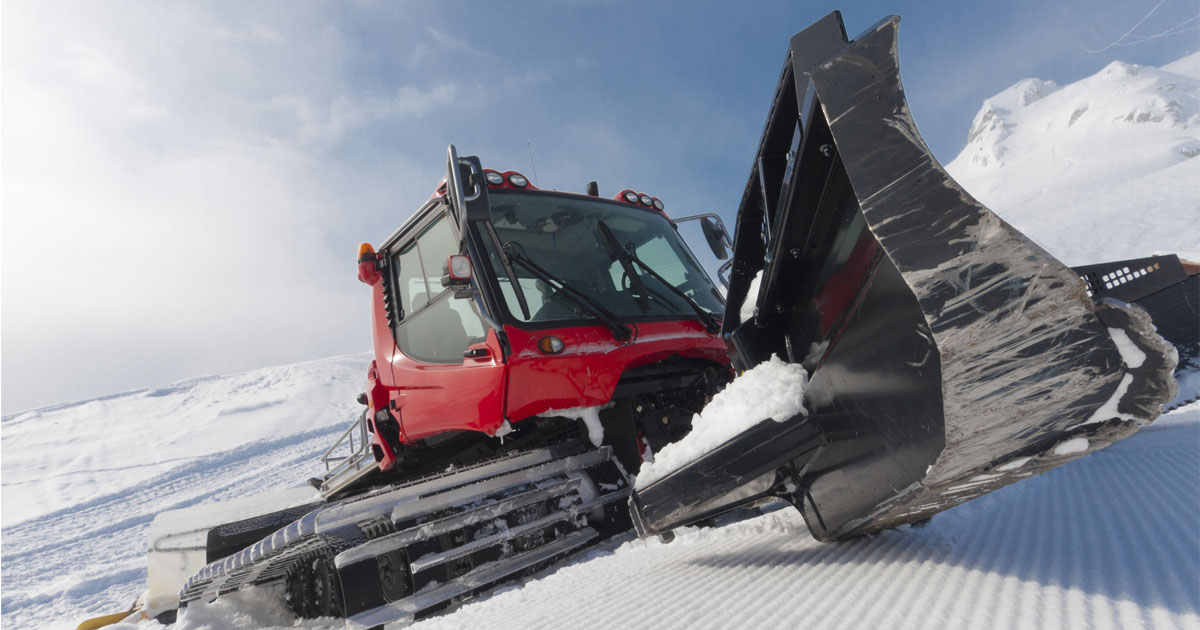 PistenBully Snow Groomers are heavy-duty pieces of machinery that can be utilized for a variety of purposes. These tracked vehicles are, of course, ideal for ski resorts, but they can be used for many purposes across many industries that thrive in harsh, snowy conditions. While the primary task of snow groomers is grooming ski trails, they see multiple uses at ski resorts,  creating snow trails that allow for safe access through heavy snow and rough terrain, providing ski lift services, search and rescue operations, and more.
Access to a snow groomer like the PistenBully can revolutionize the way you deal with the demands of winter snow, ice, and everything in between. Snow groomers can drastically reduce labor costs, improve trails and accessibility, move snow away from high-traffic areas, and provide reliable transportation for both people and supplies in a variety of situations.

Why PistenBully?
PistenBully is a well-established name in the winter machinery industry. This brand creates several lines of closed-cab snowcats, capable of fitting a large plow on the front as well as several accessories throughout, including park blades, all-way blades, tillers, and more.
The predecessor to the PistenBully snowcat made its first recognizable appearance in the 1940s, mainly as a dependable vehicle for arctic exploration. At the time, high-quality snowcats were manufactured by only a few companies. One of these companies, German-based Kassbohrer, quickly became the leading name in snowcats. The PistenBully gained quick popularity and global support due to its power, versatility, and ease of use. The PistenBully would become a dependable vehicle for long journeys over tough, unpredictable terrain.
Today, the PistenBully continues to impress consumers, business owners, researchers, and anyone else week a dependable winter vehicle with power and maneuverability. The Pistenbully comes in a variety of models and accessory options to meet the unique needs of the individual or business looking to benefit from this vehicle.

Exploring PistenBully Models
There are a variety of PistenBully models currently available on the market. They range in accessory options, cabin size, overall power, fuel efficiency, and other customizable factors. This versatility ensures that you can find a model that truly meets your needs.
The PistenBully 800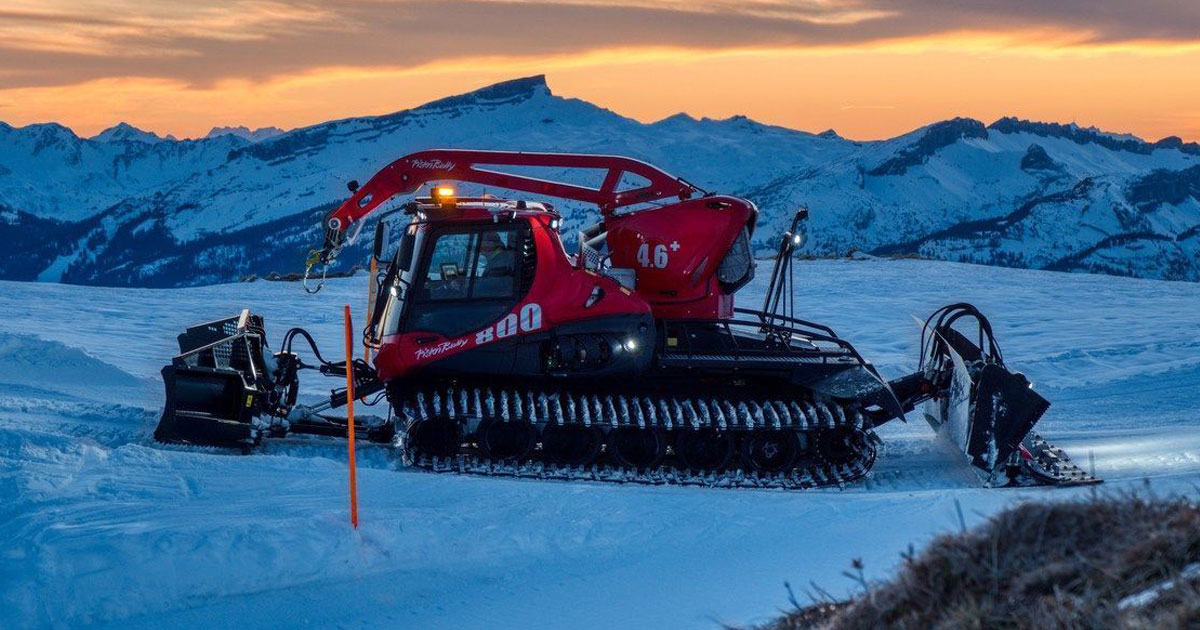 The PistenBully 800 delivers massive power with superior maneuverability. The 6-cylinder engine provides power torque for superior plowing and thrust. One of the most impressive features is that this snowcat can deliver powerful thrust even at low speeds. This minimizes the use of fuel, which helps to reduce CO2 production and ensures this machine can also easily navigate even the roughest terrain.
With five axles that run along a more extended chassis than other models, this PistenBully provides an exceptionally smooth ride. The cab is modern and designed for comfort, with large storage areas and plenty of headroom. In addition, this model features SlopeTracer and AutoTracer technology to ensure autonomous steering assistance, as well as SNOWSat depth measurement technology. Best of all, The PistenBully 800 has the largest blade on the market, making it an easy choice for individuals looking for exceptional snow grooming and slope edge preparation.
In addition to the PistenBully 800, this series also includes:

PistenBully 800 W – The PistenBully 800W provides all the features of the 800 when it comes to power, efficiency, and maneuverability. This machine boasts some of the best climbing power of the PistenBully family. Most notably, the 800W also boasts an intelligent 4.6+ smart winch with automatic steering support.
PistenBully 600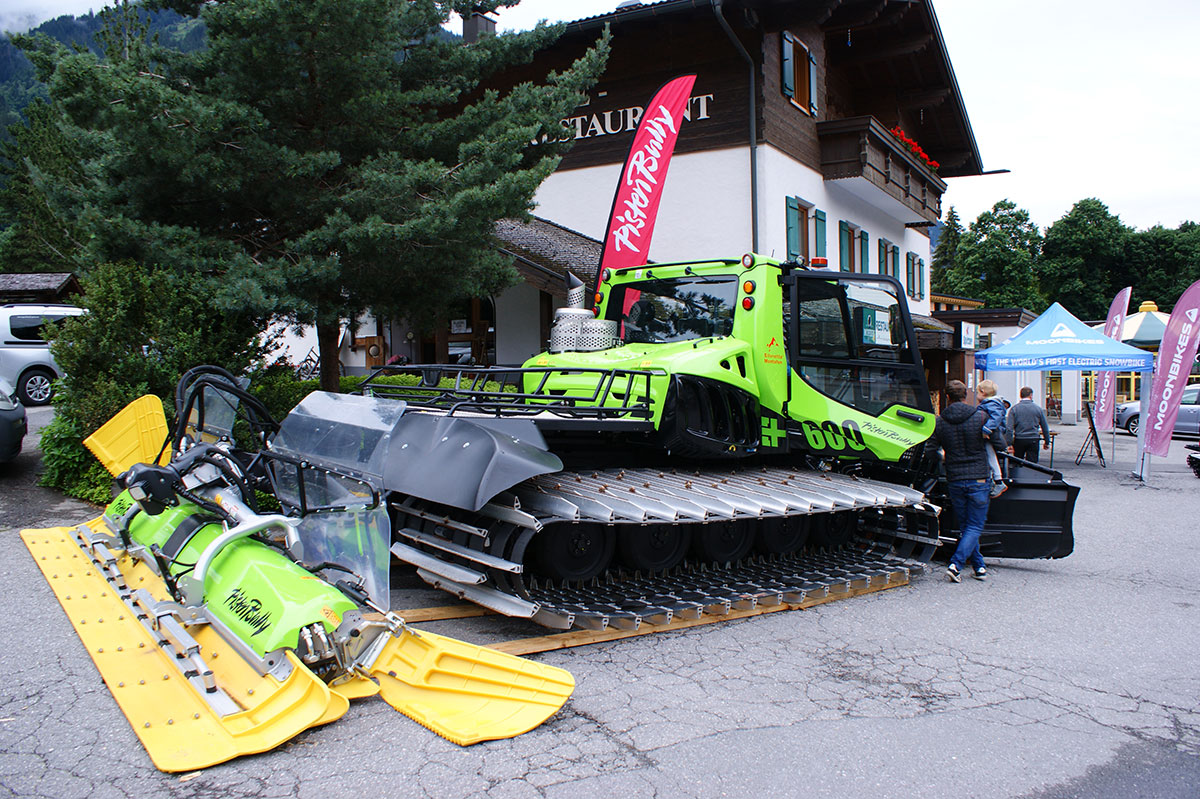 Light and powerful, the PistenBully 600 is one of the first snowcats to meet the requirements of EU emissions stage V. With reduced exhaust emissions and low fuel consumption, the 600 is a great option for those who are conscious of our impact on the environment. This model is ideal for individuals seeking a powerful machine that is also compact and easy to maintain. Your 600 series PistenBully can be operated with a joystick for intuitive control that requires only one hand. By utilizing new technologies, these models come equipped with automatic functions that improve slope quality, make handling easier, and finish the job efficiently.
Various models of the PistenBully 600 include:

600 W – When it comes to power and performance, the PistenBully 600 W does not disappoint. It has the highest power output of its class for superior climbing ability across even the steepest slopes. The feature that sets this snowcat apart is the 4.6+ winch with AutoWinch technology, which makes the winch easy to operate, even in complex slope conditions. If you rely on the winch accessory, this model is perfect for you.
600 Park – This model is ideal for snow park businesses. Flexible park blades provide precise shaping and make getting creative a breeze. Transport tines are fitted as a standard for easy transportation of park accessories. Shaping pipes, kickers, jumps, and ramps are a breeze with this maneuverable, accurate machine.
600 Polar Park – With superior flexibility to the front and rear attachments, there are few limitations when using this impressive vehicle to create, shape, and maintain your snowpark. With massive power at low engine rates, this machine is environmentally friendly without sacrificing power and thrust.
600 Polar – Lightweight with a powerful engine and torque, this snowcat is sure to impress. Intuitive control makes operating the machine and equipment attachments a breeze. This model is ideal for individuals looking to accurately create and maintain slopes.
600 Polar W – This model offers the powerful torque of the other 600 models but comes with the added bonus of superior winching capabilities. Even on steep, difficult slopes, the vehicle is easily maneuverable into ideal positions for winch use. You'll enjoy 360 degrees of freedom to winch whatever you need into place.
600 E+ – When you want a powerful machine that is clean and quiet, look no further than the PistenBully 600E+. This machine uses a diesel-electric drive for impressive thrust capabilities at low RPMs. The PistenBully 600E+ consumes up to 20% less fuel and produces 20% less noise than its competitors.
PistenBully 400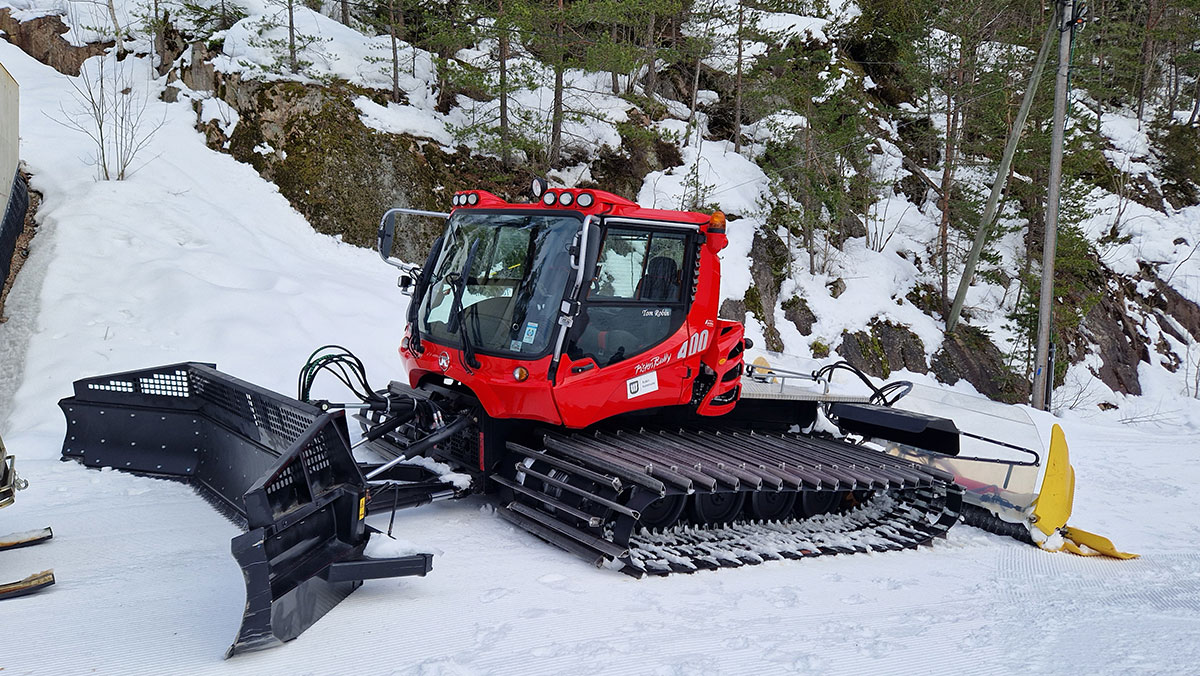 The PistenBully 400 series is a great example of how decades of innovation and technology can come together to create an impressive, versatile machine. The 400 models all utilize a uniform operating concept, where a one-handed joystick is used to control all four axles. If this isn't simple enough, the iTerminal with touchscreen makes operating even more of a breeze. Customizable operating profiles can be tailored to your different drivers.
This machine relies on multiple technology assist systems to make the work easy, simple, and safe. The PistenBully 400 is the perfect option for individuals who need a reliable machine with the best pushing performance possible. Notable is the 6-belt KombiPlus track, with quality gradability and a greater pitch. Like other PistenBully models, the 400 series has some of the best emission values on the market today.
Models in this series include:

400 W – In addition to all the great features of the 400, the 400 W offers powerful winching capabilities on rugged terrains. When it comes to pushing and climbing, this machine won't disappoint. Like other W models, the 400 W features a 360-degree winch with auto assist.
400 Park Pro – This model is ideal for a business that needs quality trails and grooming to ensure client satisfaction and increased revenue. Powerful thrust, unique flexibility, and superior maneuverability make this an excellent option for snowparks and other resort-style businesses. The accessories are what really sell this model. The Flexible  ProBlade and ProFlexTiller provide exceptional shaping and forming, allowing you to get creative.
400 Park Pro W – This is a must-have vehicle for precision park creation and maintenance. The driver functions can be customized for up to four drivers, including all joystick and button functions. The Problades allow for sharp edges and corners with ease. The additional winch is easy to control and helps move and position accessories in record time.
400 Trail – If you need a PistenBully for precise trail cutting and maintenance, the 400 Trail is an ideal fit. This powerful vehicle can pull large drags on any condition of snow, even on steep slopes. Two chassis widths are available to perfect narrow or wide trails. When you need a dependable snowcat for all conditions, the 400 Trail will exceed expectations.
PistenBully 300 Polar Antarctic
If you are facing extreme conditions, you need the PistenBully 300 Polar Antarctic. The PistenBully has long been trusted by countries around the globe for serious expeditions in scientific research and medical purposes. This vehicle has been optimized to take on heavy snow, thick ice, harsh terrain, high winds, and anything else mother nature can throw at it. With an insulated cabin, self-sufficient heating, and room for 5 to 15 people, it is an expedition favorite.
This reliable snowcat is designed to accommodate various uses, including search and rescue and arctic exploration. The PistenBully 300 Polar Antarctic is also an excellent option for construction, moving snow and ice, transporting a crew of people and supplies, and so much more.

300 Polar Greentech – The PistenBully is designed for much more than snowy conditions. If you need an all-year, all-terrain vehicle, this is the one for you. Unlike other work vehicles, this one relies on a hydrostatic drive, which is highly convenient for machine operators. A semi-circular steering wheel allows for precise steering through fields of any terrain. The 300 Polar Greentech can completely change the way you mulch, mow, clamp silage, harvest peat, and so much more. No matter the job or the season, you can rely on this PistenBully to make the job easier, faster, and much more enjoyable.
PistenBully 100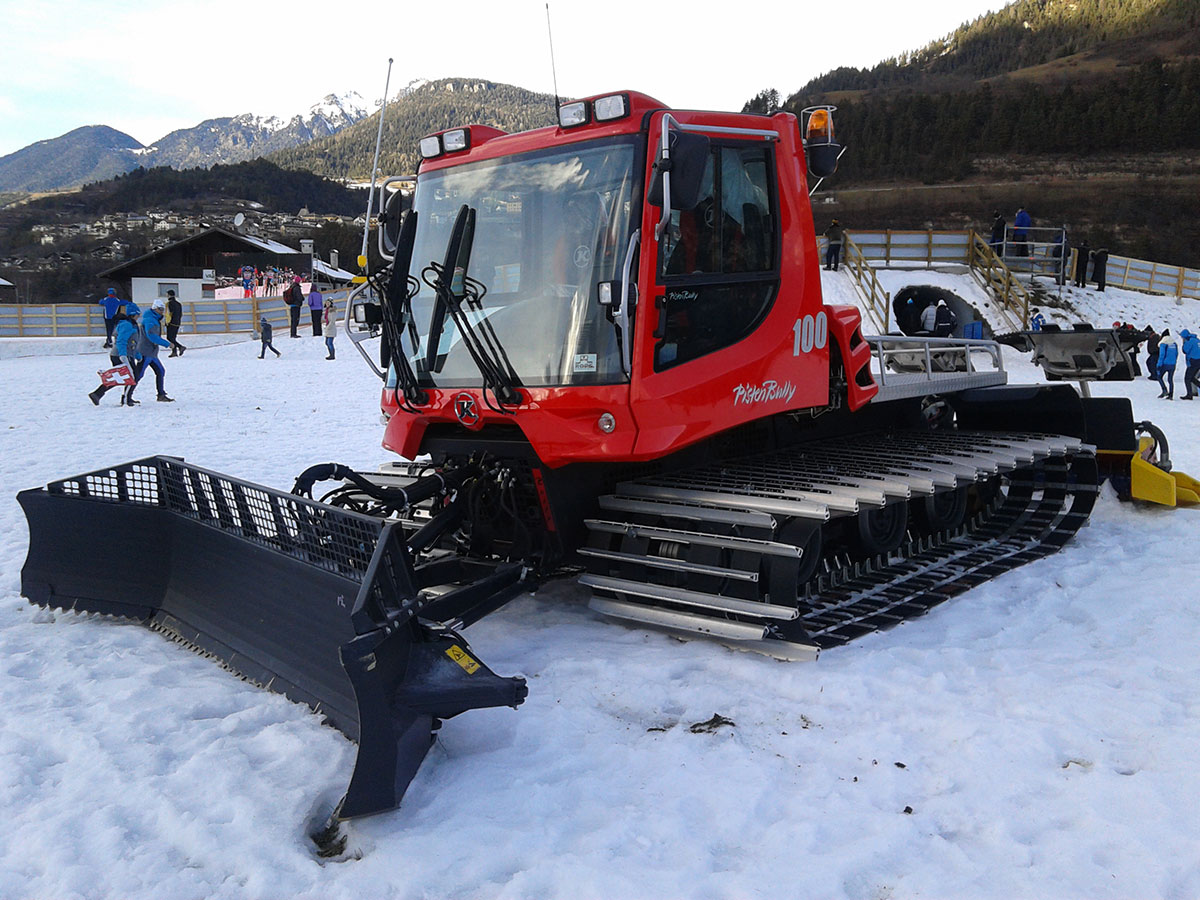 When you have a tough job to do, you'll want the PistenBully 100. This is one of the most versatile snowcats on the current market. Not only is the 100 one of the most impressive snow groomers available, but it can also be used for a broad range of purposes such as search and rescue, off-roading, as a ski-lift, construction, disaster management, and wildlife observations. This is one of the most powerful snow groomers in its class, and with more torque, lower engine speed, and a larger fuel tank, you'll save money while also cutting CO2 emissions.
Better yet, the cockpit is designed for comfort and movement. The interior space is designed with plenty of storage space and room for a crew when needed. With a variety of attachment and customization options, this model is designed for precise, easy-to-maneuver grooming and snow maintenance over large areas at a time.

100 Trail – If you need a snowcat that offers a bit more precision, the PistenBully 100 Trail is designed to make cutting, creating, and shaping trails a breeze. Whether you are looking for narrow or wide trails, this PistenBully can shape them with ease. The 100 Trail offers all the maneuverability and power of the 100, with more finesse where you need it most.
Lease Your Chosen PistenBully
If you have yet to experience the power, reliability, and versatility of the PistenBully line of snowcats, you are missing a wonderful opportunity to improve your winter business. These machines have a well-earned reputation for power, performance, versatility, maneuverability, ongoing innovation, and design. No matter which model you select, you'll soon be faced with the decision of whether to purchase or lease.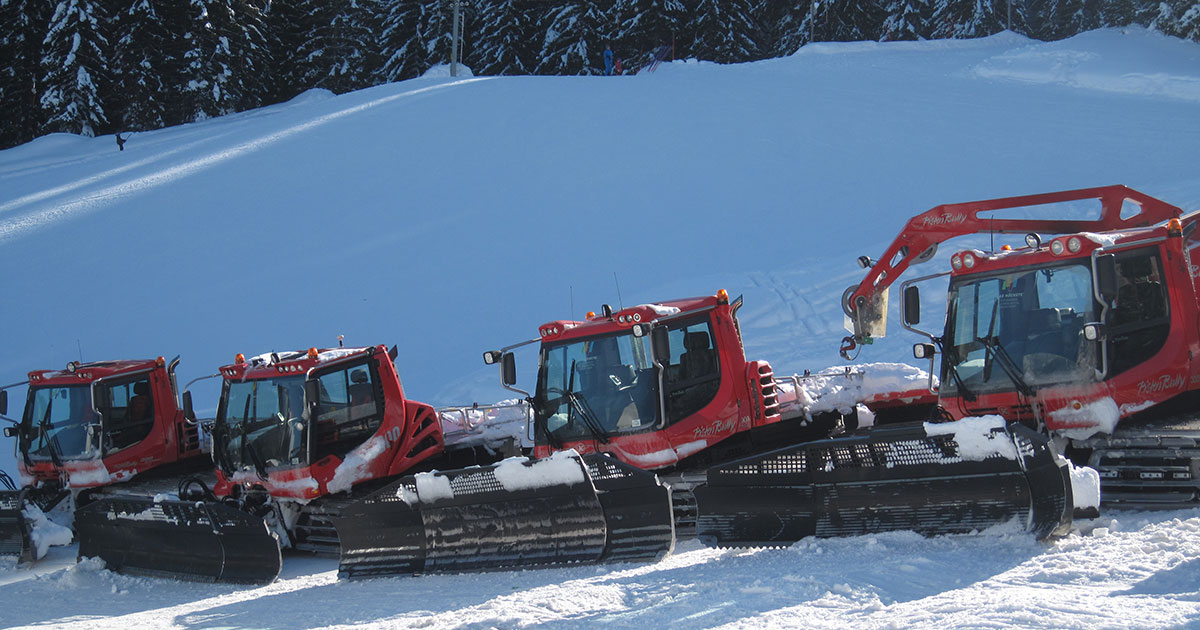 While some businesses may benefit from owning a PistenBully year-round, the majority of PistenBully users need their machines for seasonal or project-based operations. Leasing provides you access to the daily use of the best machines on the market without the need to worry about yearly repairs, storage, and other concerns. Even more importantly, with leasing, you can experiment with different PistenBully models until you find the right one for you. Overall, leasing is a low-cost alternative that helps you get the job done when you need it and cuts expenses during the off-season.
Lease a Snowcat at Ski Cat Company
At Ski Cat Company, we are proud to offer a wide selection of PistenBully models. For decades, these snowcats have been trusted by researchers, medical professionals, winter industries, farmers, and explorers alike to effortlessly scale tough terrains, provide a safe haven, and move, shape, or otherwise alter snow. Our knowledgeable staff can help you determine what model would work best for your needs. Contact us to lease a snowcat.