Skip to Content
Why You Need to Lease a PistenBully 800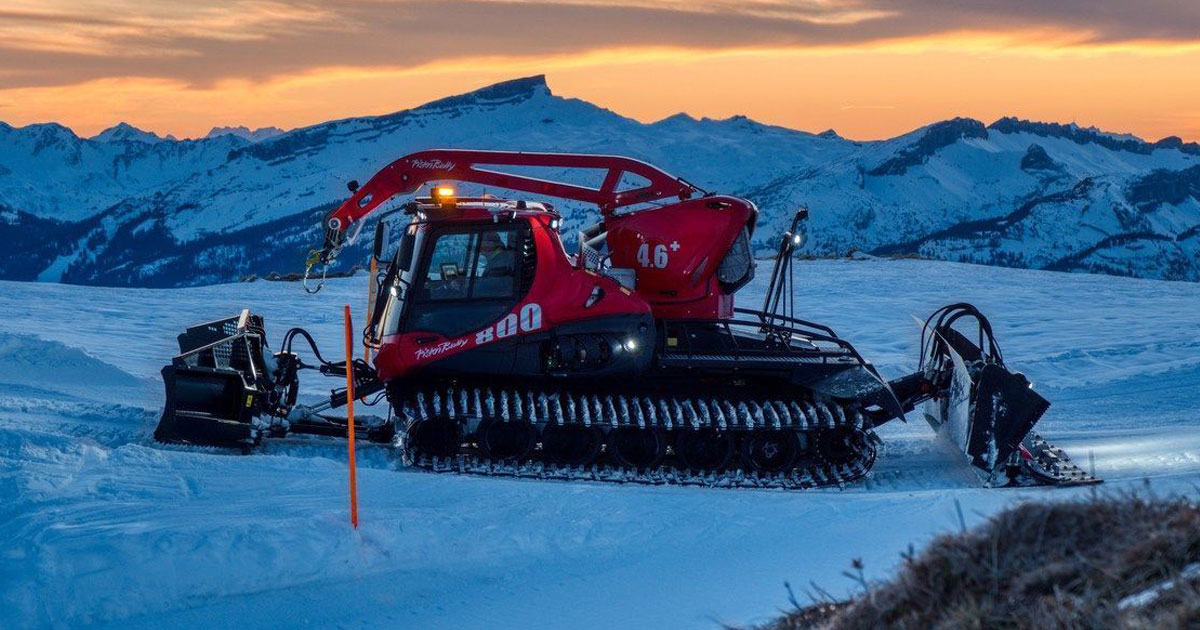 Snowcats come in a wide variety of options based on the services needed and the workload demanded. The newest –and most innovative – is the PistenBully 800. Some of the most common purposes of use include personal transportation, expeditions, seismic studies, search and rescue, medical evac, and trail creation and maintenance.
When you have a lot of snow to move, you need a snowcat you can trust. Snowcats can be found at ski resorts, mountain trails, and other industries that thrive in the winter. These large, enclosed cabs rely on heavy-duty tracks to move the heavy vehicle through all matters of terrain. Not only can these vehicles clear paths and maintain trails, but they can haul supplies and individuals through rough terrain.
The PistenBully 800
When people think of snowcats, they often think of the name PistenBully. The PistenBully name is a foundation of the industry, established as providing powerful, dependable, and long-lasting heavy-duty equipment. The new model, the PistenBully 800, is a product of decades of experience and years of innovation. Every model leading to the 800 has helped pave the way for a snow terrain vehicle unlike any other.
What to Expect from the PistenBully 800
The PistenBully 800 is sure to impress anyone with prior snowcat experience. You can expect top-quality gradeability and grooming with this vehicle. The PistenBully 800 has a MAN 6-cylinder engine capable of providing exceptional levels of performance, even in the most difficult situations. It boasts 15.30 L of displacement with 2900 Nm of torque, allowing it to reliably traverse, pull, and clear the most extreme situations.
You can expect a clearly improved level of performance when it comes to traction, and smooth operation over any terrain. Though equipped with a longer chassis than its predecessors, it is still agile and easy to maneuver. For those who need a dependable, easy-to-operate snow vehicle, the PistenBully 800 will set new standards for snow grooming.
In addition to maneuverability, the PistenBully 800 is designed to provide superior pushing performance without excessive wear on the engine. This snowcat has the ability to push and groom large amounts of snow at low speeds. When paired with the largest front blade available on the market, the 800 is able to achieve large levels of snow displacement with impressive efficiency. The ability to push a lot of snow with little fuel use means that your work is done at a lower cost, which benefits your bottom dollar as well as the environment.
What Is It Like to Own a PistenBully 800?
When you are at the controls of a PistenBully 800, anything seems possible. The power alone is unmatched, and with the new and improved chassis, there is no slope too steep. This machine can plow through the toughest terrain while providing a smooth operating experience. You'll love the level of detailed control you have when it comes to steering. While it is a large, impressive machine, it moves like a vehicle half its size.
With a PistenBully 800, you'll feel limitless. You can navigate the worst winter conditions without fear of becoming stuck or losing time on your operations schedule. You'll love the amount of power this vehicle can deliver at low engine speeds. Even better are the cost savings of owning a vehicle that operates on less fuel than the competition and provides maximum efficiency while moving snow.

PistenBully 800 Specs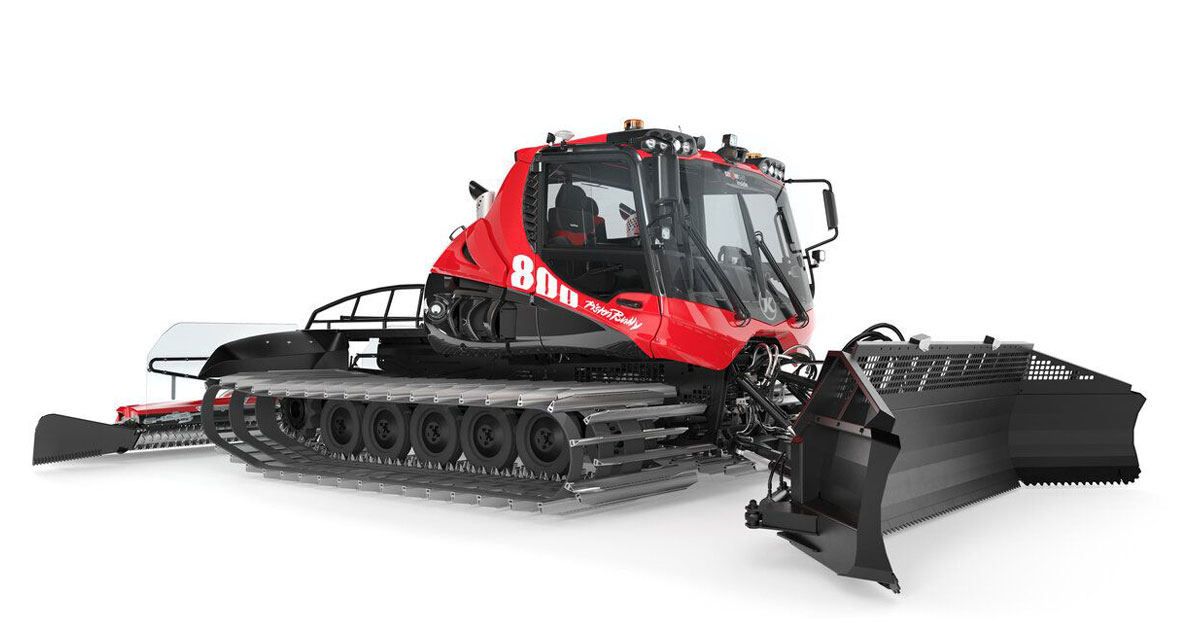 With the PistenBully 800, you can expect the following:
Power Engine – This engine is a clean 6-cylinder with a powerful torque that provides ample thrust for traversing even the most extreme weather conditions.
Longer Undercarriage – This snowcat has five running axles with a longer chassis. This is what makes the PistenBully 800 one of the smoothest rides of its kind, and the longer undercarriage also provides better thrusting and climbing capabilities.
Allway Blade 5.0m – The front blade on the PistenBully 800 is the largest blade on the market, coming in at 5.95 meters wide and 1.24 meters high. This blade provides the best edge preparation and tilling coverage, so you'll be able to easily clear even the largest volumes of the heaviest snow.
New and Improved Cab Design – Whether you are clearing slopes or trails alone or transporting groups of people, the cab design was improved with the user in mind. The new cab design provides larger storage areas, more headroom, LED illumination, optimized airflow, and so much more, all designed to make the work feel more comfortable.
CO2 Reduction – The PistenBully 800 was designed with the future in mind and considers that the health of the environment around us is vital. This powerful snowcat allows users to push more snow with less power; operating at lower engine speeds helps to conserve fuel, which helps to reduce CO2 levels escaping into the environment.
If you are looking for a powerful yet efficient snowcat, the PistenBully 800 has it all :

Additional Specs
Engine: 800/ 800 W
Type: MAN D38
Number of Cylinders: 6
Displacement: 15.30L/ 15,300 cc
ECE Power Rating: 450 kW/612 metric HP
ECE Power Rating: 450 kW/612 metric HP
Max Torque: 2900 Nm/1100 rpm
Tank Capacity: 400 L
Def Tank Capacity: 44L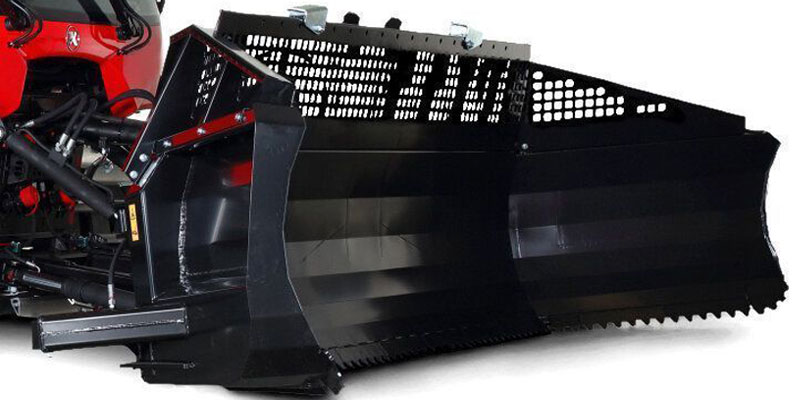 Operator Comfort and the PistenBully 800
The PistenBully 800 is designed with decades of innovation and modern design to create a heavy-duty snow vehicle that not only gets the job done but makes it more comfortable to do so.
Comfort can be expected with the new state-of-the-art cab designed for comfort. You'll experience:

A comfortable driver's seat that provides back support for long journeys and demanding days on the slope.
Larger storage compartments and beverage holders ensure that everything is within reach.
Seamless LED lighting ensures your path is clear, even once the sun has gone down.
Uniform operating concept with an intuitive 4-axis joystick to make maneuvering this beast of a machine feel like a compact car.
Dimmable ambient interior lighting that allows greater control of the atmosphere created within the cab. This is a great addition when using the PistenBully 800 to transport guests or crews of people.
Comfort is important not only for the driver but for your clients, who may be using the cab of the snowcat to get where they need to go. In addition to comfort, you can expect top-of-the-line power, maneuverability, and snow-moving capability. The PistenBully 800 comes with a clever assistance system that provides automatic support for superior grooming results. There is no slope too steep for this heavy-duty vehicle to handle.
Common Applications of the PistenBully 800
Those familiar with previous models of the PistenBully know the sheer amount of power and accuracy these machines provide. Those who are looking to lease or purchase a snowcat for the first time will be amazed at the various ways these powerful machines can be used.
The PistenBully 800 excels in multiple applications.
Transportation
The PistenBully 800 has an updated cab design with comfort in mind. With more headroom and larger storage spaces, this machine can transport people and goods with ease. This machine is ideal for traversing areas that regular vehicles couldn't handle. You can utilize your PistenBully 800 to transport guests around your ski area, through snowmobile trails, and even over ice. There is no terrain too rough for this powerful engine to handle.
Rescue
In addition to transporting guests for pleasure, the PistenBully is an ideal vehicle for search and rescue missions. This machine can accommodate people and equipment. It can also clear pathways and cross terrains in record time. When every minute counts, you want the reliability of a vehicle with this power and maneuverability.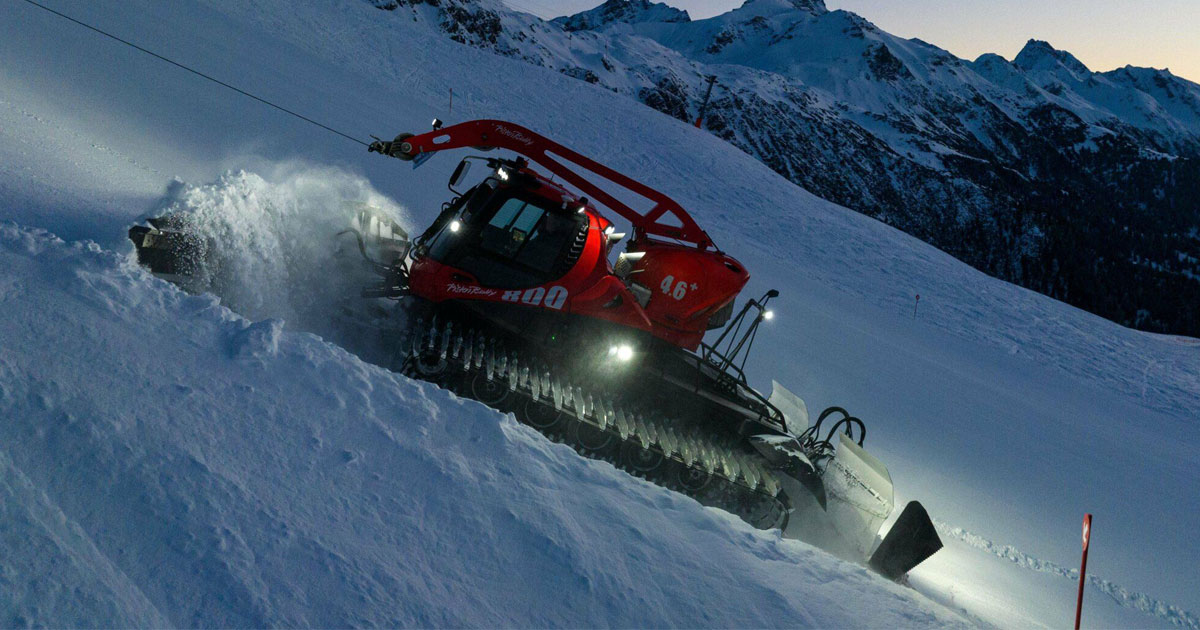 Plowing Snow
With the largest blade on the current market, plowing snow has never been easier. When you want an effective option for moving large piles of snow, this machine will have you covered. Snowfall can happen abruptly and, depending on the temperatures, can be extremely heavy. Clearing this snow with a shovel or a smaller vehicle can be time-consuming and ineffective. When you are operating a business, it is your responsibility to ensure the safety of your guests. The PistenBully 800 can easily clear driveways, sidewalks, and entire parking lots quickly and efficiently.
Snow Grooming
If you own a ski resort or other snow-play business, you want to make sure the areas for your guests are safe and up to date. When it comes to snow grooming, nothing can compare to the PistenBully 800. This highly capable machine makes it easy to create or redefine trails, ensuring everything is in top condition.

Work and Play
This vehicle is great for both work and play. You can transport guests to otherwise remote areas for private events. This is great for offering party bus options that ensure a safe and secure ride for guests. Whether you need a hard job done fast or want to set yourself apart from competing resorts, the versatility of the PistenBully 800 has you covered.
Extra Income
The versatility of a PistenBully 800 is ideal for various different industries and businesses. Outside of the more obvious use for ski resorts and other winter facilities, this vehicle is great for photographers and filmmakers looking for locations that are stunning and off the beaten path. The large cab of this vehicle can comfortably hold both crew and equipment. Guests and professionals will love the option of a unique, uncharted experience.
Lease a Pistenbully 800
When you need to get the job done with accuracy and efficiency, you need a PistenBully 800. This impressive machine has been decades in the making and has been designed with the user in mind. The expanded cab space designed for comfort and storage, as well as the sheer power and maneuverability, make this an ideal vehicle. You'll be able to haul heavy cargo and crew with ease and maneuver over obstacles without the fear of becoming stuck.
When you have a challenging task ahead of you, you need a reliable snowcat that can get the job done right. Whether you are looking to clear snow, groom new trails, or transport guests to top-quality accommodations, the PistenBully 800 can do it. Leasing a PistenBully 800 provides the convenience of having a powerful machine at your disposal while also having the ability to save on costs and space in off-season months. Leasing is a cost-effective, dependable way to get the equipment you need when you need it. Trust us: you'll want to give the PistenBully 800 a test drive.
At Ski Cat Company, we are dedicated to providing our customers with the best snowcat options on the market today. We are proud to offer the PistenBully 800 for lease, because we know how powerful and reliable this machine is. We can help you determine if this vehicle is right for your needs—contact us to learn more about our snowcat leasing options.